Pale straw color; green apple, flowers, stone fruit on the nose; apple, nectarine, pear on the palate.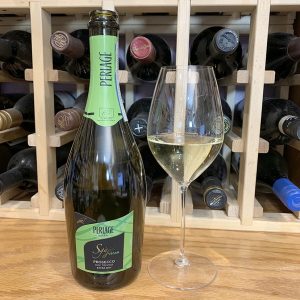 Extra dry—which means a touch of sweetness. Sparkling sweetness goes from brut nature/brut zero, to extra brut, to brut, to extra dry (12-17 g/L), to dry, to demi-sec, to doux. This is extra dry, which translates into very soft in the mouth, some acidity, soft mousse, and whisper of sweetness; 11% ABV.
Made with 100% glera grapes—as are most prosecco spumantes. Vines are relatively young—six to 15 years old. Grapes are hand picked. As with most prosecco, secondary fermentation occurs in a stainless steel tank—Charmat method—which produces less vigorous and persistent bubbles than the traditional second fermentation in the bottle method, but also very significantly less cost. If you like bubbly, prosecco should be on your wine shopping list.
In 1985, the seven Nardi brothers convinced their father, Tiziano, and mother, Afra, to convert to organic agriculture. Today, Perlage is one of the first Italian sparkling wineries completely devoted to organic viticulture. Perlage Winery Sgàjo Prosecco DOC Treviso Extra Dry Vegan goes a step further and uses no animal products—such as egg whites for fining—to produce a vegan wine.
The Perlage website notes on its first element of its mission statement: "The first responsibility of Perlage is towards the consumer. All Perlage products are organic certified and guarantee the greatest quality of organic wine. Perlage assures that the quality of its products will never be controlled by the law of the market, because they cannot go below the qualitative standard that we strive to maintain. We want to guarantee an organic wine that is genuine and certified, with attention to price but always consistent in quality."
Perlage Winery Sgàjo Prosecco DOC Treviso Extra Dry Vegan is soft, very smooth. This is simple wine, tasty fruits but don't look for depth or complexity (you have to pay a lot more for that). Enjoy as an every day, fun wine. Value added if you are a vegan. Its lightness makes it a nice, delicate, offend-no-one aperitif. Pair with fish, including raw fish and rice dishes; vegetable dishes; salads and other vegan cuisine; works with light meats—baked chicken breast, pork tenderloin. $12-16