Pale gold color; lemon, peach, banana, honeysuckle, wet rock on the nose; peach, lemon-lime zest, banana, tangerine, honeydew melon, minerality on the palate.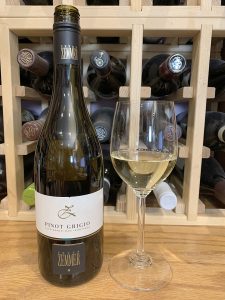 Dry; intense acidity; medium body. Big body for pinot grigio/pinot gris—a good thing with this effort. Clean and creamy in the mouth, but with intriguing character from minerality and good acidity. Barest hint of oak—10% of the juice saw time in barrel. No tannins. Nice depth and character; 13.5% ABV.
You may not think of pinot grigio as having layers and complexity. Taste this to change your mind. Furthermore, it does this while being a very approachable, easy drinker. It is like that amicable friend who dresses in well-worn, comfortable clothes and slip-on shoes. But, oh, when you talk to him/her you are reminded they have a doctorate from Stanford University. Well, since this is Italian wine, a doctorate from University of Bologna.
Peter Zemmer, great uncle of the present winemaker of the same name, established the winery in 1928. The vineyards are located in the lowlands of Alto Adige, the prime region for pinot grigio in northeastern Italy, in the foothills of the Dolomite mountains. The region is a blend of Italy and German—thus the name, Sudtirol—and for more than half the population, their principal language is German, not Italian. The region is part of the historic region of Tyrol—which is a mélange of German, Austrian, and Italian cultures.

The winery embraces sustainability. The website notes: "For Peter Zemmer, sustainability is not just a trend but a pioneering standard of living. That is why the entire demand for energy of our winery is covered by renewable energy. Electricity is produced by solar energy with photovoltaic panels on the roofs of the winery. So Peter Zemmer not only sets standards for sustainability with his responsible and natural winemaking, but also with his unique sustainable approach to energy that enables the production of power with zero emissions, in a silent and efficient way."
Peter Zemmer Pinot Grigio, Alto Adige DOC, Sudtirol 2017 is classic pinot grigio with laid-back, informal presentation. Easy going mouthfeel. Excellent fruit. Certainly works as an aperitif, or chilled it down and enjoy on patio, porch, poolside, pier, picnic in warmer days. It will work in cool days, too, inside, because of its excellent fruit and acidity. Pair with seafood; white meats; garden salads. Versatile. $15-18