Pale-medium ruby color; bacon, cherry, cranberry, violets on the nose; red fruit, sour cherry, cranberry, spice, plum on the palate.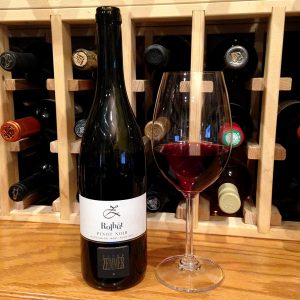 Dry; soft and light in the mouth with velvety tannins. Appropriate oak achieved by 70% aging in large French oak barrels and 30% aged in small French casks (barriques), all in the winery's recently modernized barrel rooms. Additional six months of bottle aging before release.
The Alto Adige–South Tyrol (also known as Südtirol) is ancient wine growing region of northeastern Italy. Switzerland and Austria are on the northern border; the region encompasses part of the Dolomites—the Italian Alps. The region's wine-growing legacy reaches back to early Roman times. The winery was established in 1928. The website notes: "The cultivation of vineyards has been an important part of our family history for almost a century. The third generation still shows the same enthusiasm for wine." Helmuth Zemmer manages the winery today.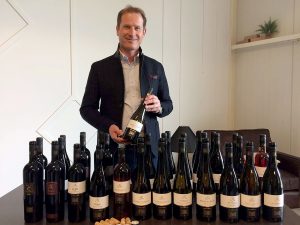 Alto Adige is noted for its mild, cool climate—thus well suited for pinot noir. The climate is a mix of alpine and Mediterranean with large diurnal temperature shifts during the grape growing season, ideal for wine grapes. It also enjoys a large number of sunny days—up to 1,800 hours of sunshine during the year.
The winery puts a premium on sustainability in the vineyard and winery, as the website explains: "The vineyard PETER ZEMMER covers its entire energy requirement with renewable energy. Electricity is generated through the use of photovoltaic panels on an area of 400 square meters on the roofs of the vineyard. Peter Zemmer does not only set new standards in terms of sustainability with his natural viticulture but also with his unique energy concept producing emission-free, noiseless, and efficient electricity."
The winery is located in Cortina, one of the smallest communities in Alto Adige with 600-650 inhabitants and the only community where a majority of inhabitants are German-speaking.
Peter Zemmer Rolhüt Pinot Noir Alto Adige DOC 2017 is a well-done presentation of the light, fruity style of pinot noir from a well-respected maker in northeastern Italy–South Tyrol. It offers classic pinot noir flavors of red cherry, cranberry, raspberry, and plum in light style that will pair well with many foods. Classic pairings include fish, shell fish, lighter red meats, lamb, fowl, rabbit and other lighter game, charcuterie, ham, cold cuts, French dishes with light, creamy sauces, goat cheese, grilled asparagus, peas. $19-24