Medium-deep copper color; strawberry, watermelon, passionfruit on the nose; strawberry, watermelon, guava on the palate.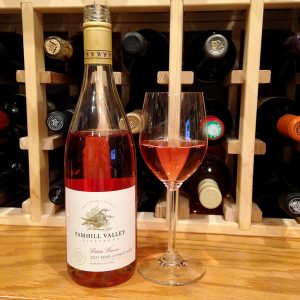 Dry; good acidity (3.43 pH); expressive fruits with tropical elements—guava, passionfruit—appearing after initial strawberry, watermelon attack. Fermented and aged exclusively in stainless steel to bring forth the pinot noir. The wine was kept cold during aging to inhibit malolactic fermentation in order to retain brightness and its crisp, linear fruitiness and mouthfeel from initial attack through extended finish.
All the grapes for this effort came from the winery's estate vineyards, the second-oldest in the McMinnville AVA. The winery website proclaims: "We have the perfect climate for growing Pinot grapes because we are located in the rain-shadow of the Coastal Foothills, visited by frequent winds that form from the Van Duzer corridor, and planted on western facing sloped hillsides. All of these come together to result in unique wines of quality and distinction, grown 100% from our Estate."
Yamhill County has more than 80 wineries and 200 vineyards, the largest concentration of grape growers and wine producers in any Oregon county. With their first vintage in 1983, Yamhill Valley Vineyards is the oldest winery in the McMinnville AVA (their vineyard is the second-oldest). They grow, produce and bottle their own grapes at their estate located on 150 acres in the rolling foothills of Oregon's Coast Range Mountains, one hour southwest of Portland in the Willamette Valley. Yamhill Valley Vineyards grow and make pinot noir, pinot gris, pinot blanc, chardonnay, and riesling.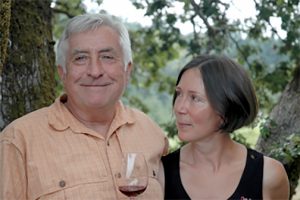 According to their website: "From our beginning we have been stubbornly dedicated to the pursuit of a character that is distinctively Oregon and distinctively Yamhill Valley. Our goal is to bring forth from this unusual and exciting property the finest possible expression of its intensity, charm and uniqueness." Principals in the effort include Denis Burger, president/founder; Elaine McCall, owner/founder (and Denis's wife); David Hinrichs, owner/founder; Stephen Cary, winemaker emeritus (who passed away in late April, 2018—this 2017 effort was his last harvest after 26 years at the winery); Greg Burger, national sales; Carlos Escobar, vineyard manager; Monica Macais, cellar master. The operation is transitioning to second-generation family ownership, including Jenny and Laura Burger.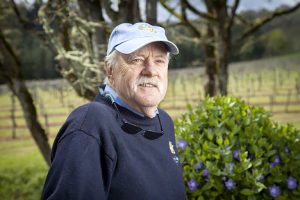 Yamhill Valley Vineyards Estate Grown Rosé of Pinot Noir 2017 is nicely complex pinot noir rosé from quality maker. Expect the expected strawberry and watermelon, then enjoy the surprise of tropical elements as it parades through your palate. Rosés pair with so many foods it almost seems silly to list them, but classic pairing includes everything from fresh strawberries with a pinch of sugar to light salads, light pasta, rice dishes, seafood of all sorts, grilled fish, goat cheeses. This certainly will work as aperitif in the garden or pool area before a an event—where fresh strawberry or watermelon slices will elicit kudos for your soiree. $16