Deep purple color; raspberry, blackberry, hickory on the nose; black cherry, black plum, raspberry, blackberry, cranberry, peach preserves, cocoa, vanilla, oak spice on the palate.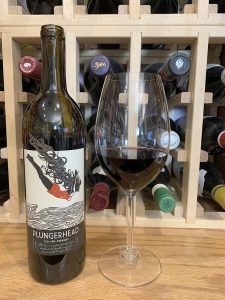 Dry; firm, smooth tannins with some balancing acidity (3.68 pH). Full body. Bold, but also soft and comfortable in the mouth. Rich, ripe dark fruits give illusion of sweetness, abetted by significant 15.5% ABV (alcohol tastes sweet). As old vine zins can be, this has high deliciousness element to it.
Blend of 84% zinfandel, 11% petite sirah, 2% mourvèdre, 2% tempranillo, 1% merlot. Multiple sources: 88% of the grapes grown in the Lodi appellation, 12% in Clarksburg. Most came from three primary Lodi vineyards, all located in the sandy soils of the Mokelumne River Basin sub-appellation. The deep, sandy soil keeps rootstocks warm during harvest, pushing ripeness, which certainly is the case here. Aged in 80% American oak, 10% French oak, 10% Hungarian oak.
Plungerhead is a brand of Don Sebastiani and Sons, a complex wine company with a history reaching back more than a century—to 1904. Plungerhead began as a label of 3 Badge Beverage Corporation, which until November 2015 was known as The Other Guys. 3 Badge/Other Guys president August Sebastiani is a fourth generation California winemaker (you likely recognized the last name). The company is a negotiant operation, meaning they buy grapes or juice, then produce wine (rather than having vineyards of their own).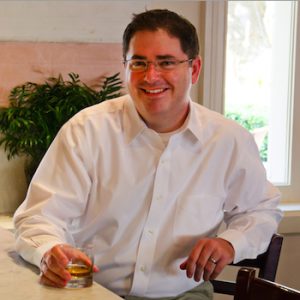 3 Badge Beverage purchased the old Sonoma Firehouse in June 2015 to convert to company offices. Researching the old building, Sebastiani found a number of documents revealing his family's involvement in the building. His grandfather (also named August Sebastiani) was a volunteer fire fighter who worked in the fire house. The family discovered three services badges from his grandfather's time as a fire fighter—active, retired, honorary—and thus the 3 Badge Beverage Corporation name. It now seems Plungerhead is its own brand under the larger Don Sebastiani and Sons corporate structure. Visit the various company websites for detailed information.
Plungerhead Old Vine Zinfandel, Lodi 2018 delivers a profusion of ripe red fruits, 16% of which is a parade of non-zin that gives this unexpected depth and complexity, particularly at this price point. Round in the mouth. The rich, ripe fruits mask significant ABV—15.5%. Very tasty, potent, versatile easy drinker.
Pair with red meat—steaks grilled, sautéed, braised, barbecued; comfort food—meatloaf, spaghetti and meatballs, pizza, lasagna; gourmet burgers; chili dishes; shish kebabs; chicken-fried steak; turkey; pork—baby back ribs, pulled pork; bacon; lamb; barbecued or grilled chicken; cheddar, manchego, blue cheese, feta, aged gruyere, gorgonzola, havarti; rich, hard cheese. Oh, and it also can be sipped solo or with a charcuterie board. Versatile. $13-15
Don Sebastiani and Sons website