Medium ruby color; plum, cherry, lemon blossom, hibiscus, green tea on the nose; cherry, red plum, blackberry, redcurrant, raspberry, coffee on the palate.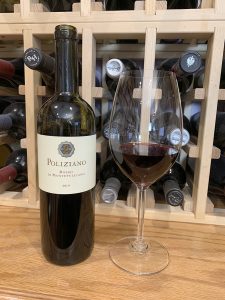 Dry; soft tannins and reserved acidity. Medium body. Soft, easy drinker. Felicitous aromas are a key feature to go along with the ripe black and red fruits. Blend of 80% sangiovese, 20% merlot. Fermented in temperature-controlled stainless steel vats for 10-12 days. Malolactic fermentation in large cement tanks, followed by 50% of the wine aged in large French oak casks, 50% in large cement tanks, so oak is not prominent in any way. 14% ABV
This is an everyday, pop-a-cork and enjoy wine. With its relaxed tannins and acidity, it is buy-it-and-drink-it libation with little aging potential. The extensive use of cement tanks delivers roundness and informal approachability. This is a comfortable, well-worn pair of jeans rather than a business-casual pair of khaki slacks.
The winery began in 1961 when Dino Carletti obtained about 55 acres of land near Montepulciano. Today, the operation includes about 420 acres. Poliziano's name is a tribute to the humanist poet Angelo Ambrogini (1454-1494), nicknamed "Poliziano." Poliziano began production of this wine in 1989. The winery is well along in a full conversion to organic certification. No fungicides, either systemic or cytotropic, are used. Website: "We are absolutely certain that our products from a live, prolific, sustainable, non-polluted vineyards and soils are and will continue to increment their quality and tipicity."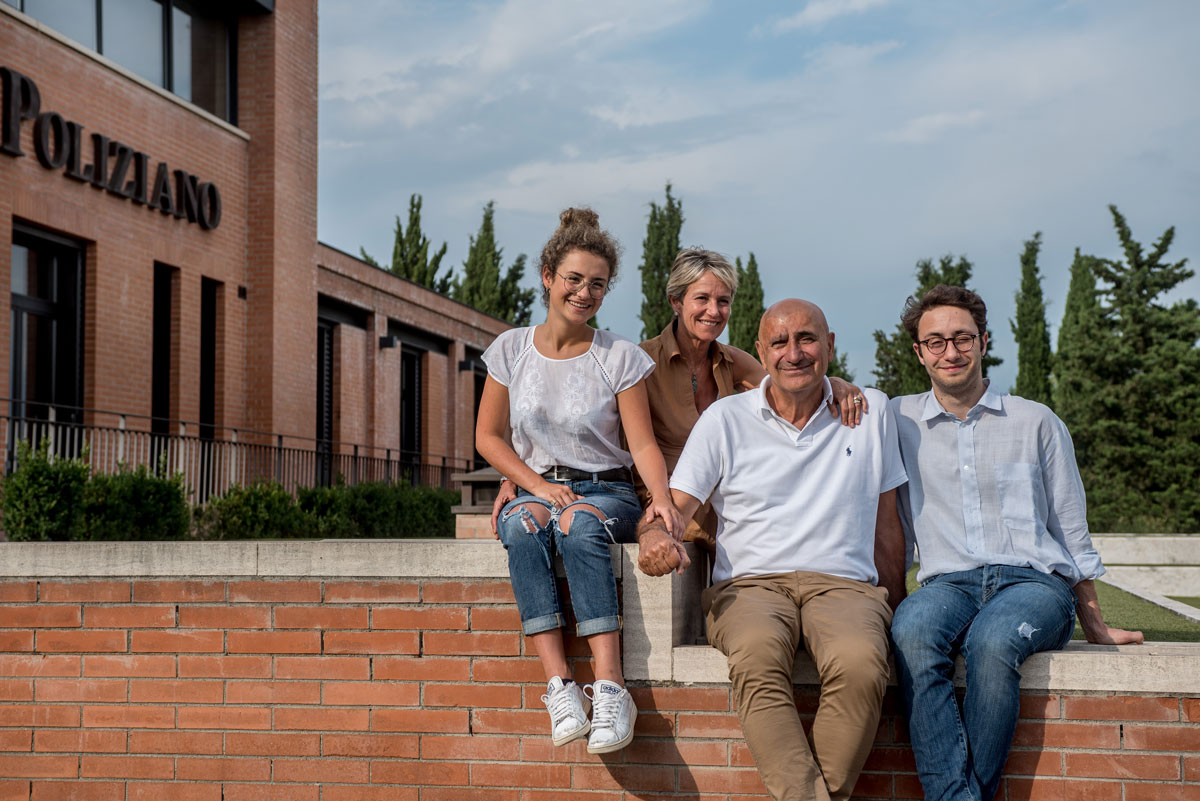 Dino's son, Frederico Carletti, took over management in 1980. Today, Francesco and Maria Stella are moving into management of the family-owned enterprise. The website notes, Frederico "immediately made his mark and reached a philosophical turning point by studying and working exclusively with proprietary grapes ('Estate Winery'). With a concentration on quality viticulture, innovative yet respectful of the environment and tradition, it is possible to achieve from the high density planting of vines."
Montepulciano is in the heart of Tuscany. The website notes: "Firm in his belief of the potentiality of the territory of Montepulciano, Federico, for almost twenty years, has concentrated on coaxing the highest expression of this territory from his wines; allowing them to express both its tradition and authenticity. To this end, he has dedicated himself to the production of 'cru' of great renown."
Poliziano Rosso di Montepulciano 2019 is affable easy drinker. Approachable dark fruits and pleasing sangiovese aromas are the features here rather than depth or complexity. Just sit and sip and relax. Some 250,000 bottles are produced each year—thus the laid-back price. Natural pairing with comfort foods—meatloaf, pizza, spaghetti and meatballs, chicken fried steak, mac and cheese, grilled cheese sandwich with tomato soup. Tannins are a bit weak to stand up to rich grilled steaks, but slow-cooked lamb or brisket would work. $17
U.S. importer Della Terra website, this winery