Medium ruby color; cherry, raspberry, blackberry on the nose; black fruits, plum, strawberry, cranberry, black cherry, cocoa, dash of pepper on the palate.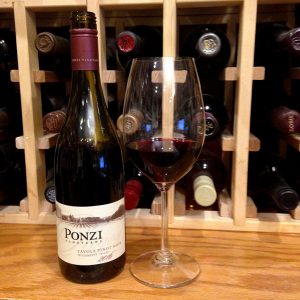 Dry; subtly done oak—almost a year in 20% new French—then it is bottled unfined and unfiltered to deliver richness and depth. Layers of lush fruit. Impressive integration. This is Ponzi's entry-level offering, but it showcases what Ponzi's Willamette Valley vineyards and the deft touch of two generations of gifted winemakers can do. Reserved tannins you expect from Oregon pinot, balanced with tasty tannins and unobtrusive acidity.
The fruit for this effort comes from Ponzi's LIVE certified sustainable Avellana Vineyard as well as from other sustainably-grown vineyards in the Chehalem Mountains, Yamhill-Carlton, and Ela-Amity Hills AVAs. If you enjoy this, and there is much to enjoy, next time move up in the Ponzi scheme of wines to experience even more etherial delights. Sticking with this beauty, however, is a purchase you will not regret.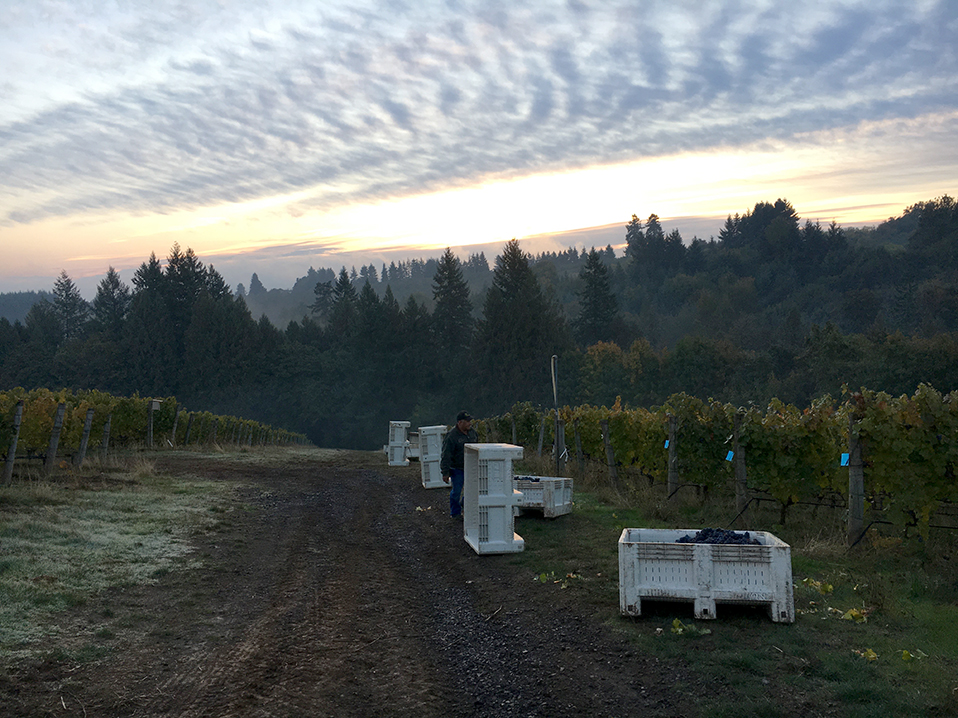 The Willamette Valley (south of Portland) is notable for the strictest label laws in the U.S. and has a deeply serious commitment to environment and worker-friendly agriculture. Ponzi has been a leader in that effort since Dick and Nancy Ponzi became pioneering winemakers in the Willamette Valley in 1970. By 1989, Robert Parker noted: "Ponzi continues to make Oregon's most complex Pinot Noir" and likened the wines to the great wines of Burgundy.
In 1993, daughter Louisa Ponzi returned from post-graduate enological studies in Beaune, France, after receiving the certificate Brevet Professionnel D'Oenologie et Viticulture, the first American woman to earn the prestigious distinction. She became the winery's lead winemaker the same year. Mom and dad must have been proud. Wine lovers remain deeply grateful.
Luisa Ponzi is an example of how women are now some of the premier winemakers in the world. In part, it is biology. Statistically women are more likely to have superior noses to men and more taste receptors than men, plus they can multitask more effectively than men. Freed from gender discrimination, women winemakers rise to the top of the profession and produce sophisticated delights. Luisa is more than a giant in Oregon winemaking, she is force in the entire wine world. She and her sister, Maria (director of sales and marketing) became the owners and operators of Ponzi in 2012, making Ponzi one of America's few sister-run wineries. May the sisterhood of wine increase.
Ponzi Vineyards Tavola Pinot Noir, Willamette Valley 2016 is a spectacularly good starting point for enjoyment of Ponzi pinot, now recognized as a world-class player in pinot production. Superb, fun, serious, completely approachable, undeniably delicious. Pair with salmon and other fatty fish; roast or grilled lobster; roasted chicken; rack of lamb, lamb chops; pork roast, pork tenderloin; beef Wellington; turkey and turkey sausage. Stunning value. $24-25