Medium gold color; yellow apple, honeydew melon; yellow apple, pineapple on the palate.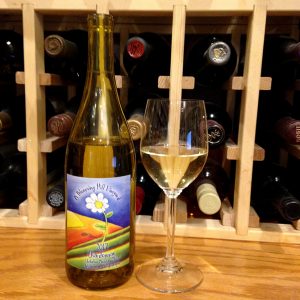 Dry; light in the mouth, simple, some acidic bite on the medium finish. There is nothing wrong or off with this chard, but there also is no wow. Very easy drinker because the flavors are thin. The acidity is nice, but likely was earned earned by picking the grapes before they were ripe; 13.7% ABV
The winery owners' back story is charming. They met more than 40 years ago when Jim worked for the company involved in legendary children's shows "Sesame Street" and "The Electric Company," as well as notable concerts filmed in Central Park. Holly was his secretary for a while. It wasn't until 2006, after each of them had moved to the Pacific Northwest, that they met again, and this time cupid's arrow hit home. The company's website gives greater detail of their love story. Romantics should visit and enjoy their video.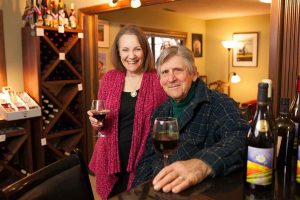 A Blooming Hill Vineyard is better known for its pinot noirs and a pinot gris-riesling-chardonnay blend called "Mingle". This chardonnay fills a niche in their wine repertoire, but is not as strong as their other offerings, which I have praised. Few wineries hit a home rum with every bottle. I think of this one as a bloop single into right field. Better than an out, but not something to scare the pitcher.
A Blooming Hill Vineyard Chardonnay, Chehalem Mountains AVA 2017 is a serviceable chard that has good acidity but struggles to achieve distinctive identity—thin fruit, no butter or oak to note, inoffensive. Acidity is its major chord, and that counts for something. It should do well with food—all the usual chardonnay suspects: fish, salads, poultry. Make this a bit player in your dinner drama, don't count on it to play a leading or major supporting role. $19
A Blooming Hill Vineyard with some nice videos. You will get a flavor of the operation