P+S Prats & Symington Prazo de Roriz Douro DOC 2015: Deep ruby color; red berries, ripe fruit, menthol, vanilla on the nose; dark cherry, blackberry, red plum. red berry, chocolate, spice, minerality, prunes on the palate.

Dry; medium-full body. Relaxed tannins with balancing acidity (3.62 pH); ripe, fruit forward with nice layers for wine in this price range. Blend of 33% touriga franca, 27% touriga nacional, 27% tinta barroca, 7% tinta roriz, 6% tinta amarela. You could call this a Portuguese Bordeaux with touriga nacional serving the role of cabernet sauvignon and touriga franca the role of merlot. Medium length with tangy finish.
This is Prats & Symington's third label to their highly acclaimed Chryseia. The Symington family is major force in both Porto and the Douro—the Symingtons own the Porto houses of Dow, Graham, Warre, and others; they dominate the Porto market. The Prats are quality producers in Bordeaux, so this is a partnership (created in 1999) between heavy hitters in the Portuguese and French wine world. The winemakers are Bruno Prats and Charles Symington assisted by Pedro Correia and Luís Coelho.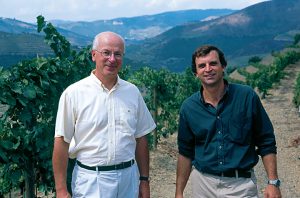 P+S Prats & Symington Prazo de Roriz Douro DOC 2015 delivers a crisp, zesty red at excellent price. It is another example of how Portuguese wines punch way about their weight. Pair with barbecue; rich cuts of beef; wild game. $14-17