Deep ruby color; blackcurrant, red plum, dark cherry, baking spice, vanilla on the nose; blackberry, chocolate, strawberry, plum, red cherry, crème de cassis on the palate.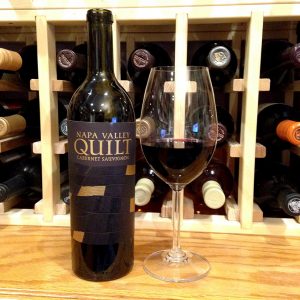 Dry; full body; relaxed tannin; smooth as pop-and-pour, even more elegant and approachable after decanting, which accentuates the velvety mouth feel; impressively long finish that continues the supple mouth feel. Nicely made wine where the plush mouthfeel really stands out. The name comes from sourcing throughout Napa Valley to produce the boldest and most expressive Napa cab—a quilt work of parcels. The grapes are de-stemmed then cold-soaked for up to two weeks with pump overs each day. Cold fermentation follows for a month to extract color and structure without getting seed tannins. The wine then sits under cap for up to two weeks before moving to 59-gallon French barrels, 70% new, where there is a secondary fermentation. Blind-tasting blending follows.
Quilt is brand of Copper Cane Wines & Provisions. The company offers variety of wine brands, plus a line of premium cigars (Avrae) and a line of swimwear (Mia Macelle). Copper Cane name comes from the color of the wine vine's canes at time of maturity. A cane is the shoot (branch) of a grape vine after the leaves fall and the dormant season begins. The base of the vine is the trunk—it is the gnarled, tree-like part just above the ground which then has branches like a tree. The branches are called shoots, from which leaves and grape clusters grow. After harvest, a healthy vineyard will appear to be a sea of copper because the shoots have matured into canes. Except it isn't that simple. Depending upon the pruning method, the shoots/canes may be called cordons. And there are some dozen different vine training methods in addition to that. Welcome to viticulture.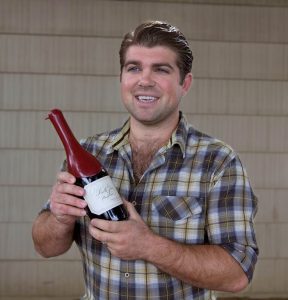 Quilt is made by Joe Wagner, owner and winemaker at Copper Cane. He is a fifth-generation Napa farmer/winemaker—his family founded Caymus Vineyards in Napa Valley in 1971. In 2001, at age 19, Wagner started making wines, producing an award-winning pinot noir label, Belle Glos (he also completed the wine executive program at UC-Davis). Wagner founded Copper Cane Wines & Provisions in 2014. Wagner wines aim at big, fruity, upper-end expressions of Napa cabs and chards. Wagner's business aims are to be robustly assertive and successful; he is playing a big and a long game.
In 2015, Wagner sold his wildly successful Meiomi brand to Constellation Brands for a whopping $315 million. The sale makes him richer, but it also seems intended to boost his move into Oregon to complement his Napa operation as well as other ventures. His Oregon play is the Elouan brand of pinot noir. He also has ambitious plans in Sonoma for his Dairyman Vineyard, located between Santa Rosa and Sebastopol, but that effort faces push-back because of its intended bigness and environmental effects.
Quilt Napa Valley Cabernet Sauvignon Reserve 2013 is assertive, bold Napa cab. Only the top two percent of grapes from selected from Atlas Peak, Oakville, and Rutherford go into this effort—multiple site grape sourcing is a hallmark of Copper Cane Wines & Provisions. Wagner is fielding an all-star Napa team with this effort. Pair with rich steaks such as rib eye with béarnaise sauced, lamb, pork sausage. $101
Joe Wagner video about Quilt Wines