Deep ruby color; blackberry, redcurrant, cherry, cigar box on the nose; blackberry, blackcurrant, cherry, plum, vanilla, chocolate, cedar on the palate.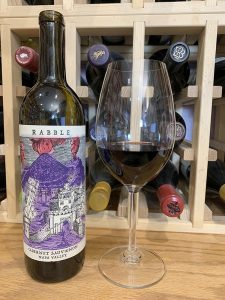 Dry; smooth, integrated tannins; moderate acidity (3.7 pH). Full body. Rich, lush in the mouth. Sensation of sweetness with the very ripe grapes. 100% cabernet sauvignon grapes from Napa Valley. The wine spent 10 months in French oak, 15% new, 85% neutral. The finish lingers with some rustic elements you may or may not enjoy. 14.5% ABV
The winery is in Paso Robles, but the fruit for this effort came from Napa. Rabble is evolving. It originally was known as Rob Murray Vineyards, then Force of Nature. Their cabernet sauvignon in previous years was made with grapes from Paso Robles.
Rabble emphasizes environmental activism. Their top four wines push elements of nature—earth, fire, water, wind—and are sold as a bundle. For each bundle sold, Rabble plants five trees. The website notes: "Our wines are rooted in nature. It's in the way we make our wines and grow our vines all connected to the soil to establish the essence of a vibrant and honest wine. It's why we partner with local growers and farmers who are dedicated to sustainable farming practices to produce full purity in the fruit."
Rabble places significant attention to nature. The website notes: "We understand the importance of protecting our environment and creating vibrant, honest wines. Our wines are rooted in Mother Nature and are created by the best damn grape growers who are unapologetic about their process and use their intuition to create products they can stand behind and never compromise. Mother nature is what leads us to make our decisions. It's why we're not afraid to take risks because she won't steer us wrong. Ultimately, we must listen to her. We must obey her. And we must protect her."
Rabble Cabernet Sauvignon, Napa Valley 2019 borders on jammy but wisely does not cross the line. Rich, lush dark fruits. Smooth easy drinker with laid-back tannins and acidity. Wide distribution often with sale pricing, which is the time to buy this unconventional effort. Pair with rich beef; ribeye steak; burgers; comfort food—meatloaf, pizza, backyard barbecue. Cheese—cheddar, aged gouda, gorgonzola; aged cow's milk cheese with some age. $25-36
The website presents a scramble of photos, so fast I can't present them. The website is worth visiting. There is augmented reality for each label, for instance, if you are into that.