Deep ruby color; cherry, plum, oak, vanilla on the nose; black cherry, plum, blackberry, raspberry, chocolate, oak on the palate.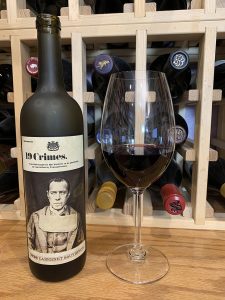 Dry to off-dry; soft tannins and acidity. Medium body. Ripe grapes; jammy. Very simple. There is a thickness in the texture. It tastes like a wine with heavy intervention in the winery to hit a certain focus-group-determined profile. That means the addition of some elements—vanilla in particular—that likely were not given to it by oak barrel aging. 14% ABV
This is commodity wine meant to be opened the day you buy and consumed without much thought to the qualities of the wine other than it is a very easy drinker with some sweetness and alcohol. Party wine—yes. Wine to serve to people who are new to wine—yes, absolutely. Wine that will work as a second or third bottle among friends at a rollicking party—yes, indeed. There is a niche for that sort of wine, and 19 Crimes fills it well.
19 Crimes is owned by Treasury Wine Estates, a major international player in the wine world, making wine in 12 countries, selling more than 35 million cases of wine a year, and generating sales of more than $2 billion. Labels you may recognize some of their other brands—Stags' Leap, Sterling Vineyards, Beaulieu Vineyard, Beringer, Chateau St. Jean, Greg Norman Estates, Lindeman's, Wolf Blass, and Treasury's flagship—Penfolds.
19 Crimes Cabernet Sauvignon 2020 is simple, jammy introduction to red wine. It is a very drinkable effort that many people, especially those just getting into wine, will find tasty and enjoyable. No problem there. Enjoy this wine without apologies or guilt. Later, you can venture into wines with depth and complexity. Pair with grilled and smoked meats; barbecue; comfort foods—meatloaf, burgers and sliders, pizza. $8-12
There are no photos of vineyards or winery on the website.