Medium copper color; strawberry, watermelon, citrus on the nose; red watermelon, strawberry, lemon, citrus, minerality on the palate.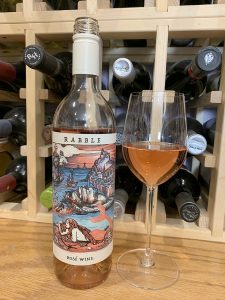 Dry; good red fruit; every supple, easy drinker with phenolic sweetness. Good acidity. Vibrant, clean flavors. Fermented and aged in stainless steel, no oak influence.
This is something almost anyone, even those not into wine, could quaff and enjoy chilled on a hot day around pool (plastic containers please, this wine will not mind); deck, dock, patio. Laid back, drink something fruit juicy and delicious and pass-the-time-of-day pour of wine. My goodness, look at the label and the name and you know what you are getting into. 12.2% ABV
Rabble emphasizes environmental activism. Their top four wines push elements of nature—earth, fire, water, wind—and are sold as a bundle. For each bundle sold, Rabble plants five trees. The website notes: "Our wines are rooted in nature. It's in the way we make our wines and grow our vines all connected to the soil to establish the essence of a vibrant and honest wine. It's why we partner with local growers and farmers who are dedicated to sustainable farming practices to produce full purity in the fruit that creates fresh Paso Robles wines embodying the rebellious Rabble style."
Rabble Rosé Wine 2019 is fresh and vibrant with tasty red fruits. Strawberries dominate. Easy drinking. Classic summer sipper. Can be found significantly discounted from Rabble's website price of $25. Works as an aperitif—all tasty rosé wines do; pair with shellfish; Asian spicy food; barbecue; appetizers and snacks; fruit salads. $15-25
The website presents a scramble of photos, so fast I can't present them. The website is worth visiting. There is augmented reality for each label, for instance, if you are into that.