Pale amber-copper color; strawberry, plum, passionfruit, pear, elderflower on the nose; strawberry, citrus, plum, peach, apple, blood orange, passionfruit on the palate.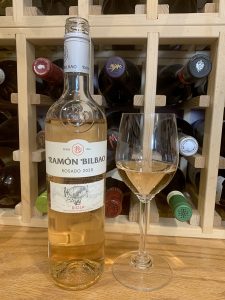 Dry; delightful mouthfeel, magnificently smooth easy drinker. Faint, if any tannins, good acidity. Fresh, lush, delicious, soft fruit-forward. Exceptional mouthfeel—the reason rosado (rosé) is such a versatile and attractive wine. Blend of 85% old-vine grenacha and 15% viura. Racy acidity, likely from early picking (3.11 pH). Plenty of fresh, juicy fruit to enjoy here. No automatic pressing and reserved alcohol emphasizes the fruit and freshness. 12.5% ABV
Ramōn Bilbao started his wine adventure in 1924 because he saw it as an opportunity to travel the world. The family continued the tradition until the founder's grandson, Ramōn Bilbao Pozo, died without leaving an heir in 1966. The winery became a corporation in 1971, and in 1999 was obtained by the family firm of Diego Zamora S.A., which operates it today. The interesting story is available on the website, with links below. A visit to their website is a delight, including several engaging and informative videos.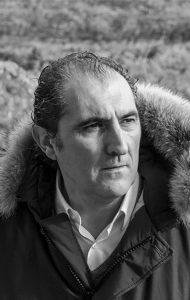 Rodolfo Bastida is the technical director and general manager of Bodegas Ramōn Bilbao. In addition to a technical agricultural engineering degree, he has a master's in viticulture and enology, and a master's in business management. Sara Bañuelos is the technical director. She has a bachelor's degree in enology at the University of La Rioja. Rosana Lisa is the director of innovation and deputy technical director. She has a bachelor's degree in enology. Qualified people making quality wine. Hard to get better than that.
Ramōn Bilbao Rosado 2020 delivers red fruits, wondrous mouthfeel, made in Provençal style. Clean, fruit-forward, fun. Good balance of excellent acidity and structure. Very nice achievement. As a quality rosé, this is very versatile for food pairing and easily will work as an aperitif or sipped all by itself. Pair with white meats—chicken, rabbit; fish; shellfish; cold-cut meats; risottos; soft cheeses. $20-22
Ramōn Bilbao website; includes fascinating videos, especially "The Soul of a Violin"
Ramōn Bilbao page on Deutsch Family Wine & Spirits, U.S. importer