Deep purple color; black and red cherry, mocha, oak, smoke on the nose; cherry, black plum, sweet oak, vanilla cola, blackberry on the palate.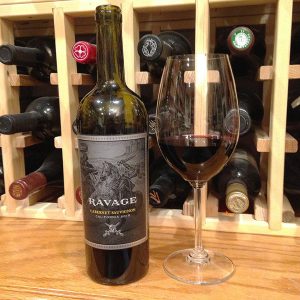 Dry, but clear taste of sweetness thanks to oak and ripe fruit; full body; dark, rich; some acidity (3.8 pH); mild, velvety tannins; loads of concentrated dark fruit. While dark and brooding, this is straightforward big fruit, big oak, big ripe California cab; 76% cabernet sauvignon (just enough to be called a cab), 10% merlot, 10% zinfandel, 3% syrah, 1% other red grapes. Aged in 100% new French oak. Some will love this, while others may demure that it is too over-extracted and oaky.
This is built to please a specific target market, not sophisticated, the dark "audacious" fruit is somewhat candified. I have some trouble with the big oak/massive ripe fruit signature, but recognize others completely enjoy this style. To me, the oak is like pancake makeup to makeup to mask flaws in the grapes, which likely came from high-production vineyards all over California (thus the "California" on the label and the lack of any photos of vineyards or winery on the internet).
This is fast turnaround bottle—spend time in new oak, then off to the end caps at grocery store; the purple color is one indicator of the youth of this pour. I could find no photos of vineyards or winery or winemaker, reinforcing this is American equivalent of négotiant effort—wine assembled by a merchant rather farmer-winemaker. This is made to fit into wine niche, and it succeeds.
Ravage Cabernet Sauvignon California 2015 is big, oaky California cab that should be easy to find at Sams Club or grocery store. Pair with pizza, burgers, bacon cheeseburger, barbecue, Texas brisket. $10-12