Medium ruby color; tobacco, coffee, cherry, cedar on vivid nose; black cherry, sour cherry, plum, blackberry, strawberry on the palate.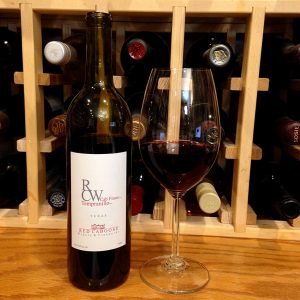 Dry; fruit-forward, brambly and rustic in the mouth. Some oak, especially on mid-palate and finish, achieved from 24 months in American white oak. Unfiltered. Old World in style, which is intentional at Red Caboose. The wine is 50% cabernet franc and 50% tempranillo; 14.9% ABV.
Their literature notes Red Caboose aims to: "make the most natural and organically produced wines possible by using 'Old World Wine' organic principals. All of our wines have very low levels of sulfites and some have no sulfites! We make great wines by organically growing our own natural grapes."
Red Caboose asserts it is the most sustainable winery in Texas and has the awards to back up the claim. Founder Gary McKibben is an architect, so the winery utilizes solar power, geothermal energy, rainwater harvesting, recycling, and composting all vineyard water. McKibben manages the vineyard using organic/sustainable practices. "We do not apply harsh pesticides to our grapes! Every step of our viticulture is done by hand. We do not machine harvest."
The winery and vineyard are located north of Meridian, the county seat of Bosque County in Texas. There is a tasting room in Clifton, 15 miles south of the winery-vineyard, and it is larger and more commodious. Clifton is the largest town in Bosque County and the cultural/financial center. This is deeply rural Texas. The county population is around 18,000; Clifton's population is about 3,500, Meridian about 1,500. As Bosque County is located on the northern fringe of the Edwards Plateau, so Red Caboose also can assert it is one of the northernmost winery-vineyards in the Texas Hill County AVA.
Texans know Bosque as the home of James E. "Paw" Ferguson, 26th governor of Texas, and Miriam A. "Maw" Ferguson, 32nd governor of Texas. The county is roughly halfway between Waco and Fort Worth. Bosque is Spanish word for "forest." The Bosque River flows through the county and into Lake Waco.
Cabernet Franc is the parent grape for both merlot and cabernet sauvignon. It delivers dark color, medium body, medium tannin, medium acidity, and medium alcohol. It typically thrives in cooler regions, especially the Finger Lakes of upper New York state, but Red Caboose pulls it off in hotter central Texas, albeit with more rustic notes—but most cab franc wines from anywhere have rustic elements.
Tempranillo is Spain's top red grape variety, featured in the wines of Rioja. It is a warm-weather grape that has proven to do well in Texas. With two years in oak, Red Caboose treats its tempranillo in the manner of "reserva" tempranillo in Spain. The tempranillo provides black cherry and sour cherry notes in the Red Caboose effort. Rusticity—particularly leather and tobacco flavors—is mild characteristic of tempranillo unless tamed with years in wood and bottle; the Red Caboose effort reflects those traits.
Red Caboose Winery & Vineyard Cab Franc-Tempranillo, Texas NV is an intriguing blend with dramatic, rustic fruit made with 100% Texas-grown grapes from the Red Caboose estate vineyards. This definitely is not an easygoing simple sipper. Its rusticity and sour notes will put off some, but those attributes serve well when paired with the appropriate food— tomato-based dishes; vinegar-based dishes; smokey barbecue—beef or ham; rich steaks; gourmet burgers; lamb; grilled meats in general; Mexican/TexMex food such as tacos, burritos, chile rellenos. $25
You can purchase at the winery in Meridian or the tasting room in Clifton, through the wine club, and through the Red Caboose online store on the website. The winery can only ship in Texas. Some wines are sold at select HEB grocery stores in the Waco-Fort Worth area.