Reyneke Chenin Blanc 2018: Medium gold color; white peach, grapefruit, pear, pineapple, white flowers on the nose; quince, yellow apple, peach, pear, melon, citrus, honey, saline on the palate.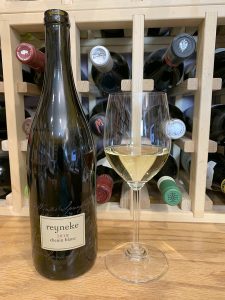 Dry; good acidity (3.31 pH); hint of honey-fruity sweetness (4.4 RS). Good minerality with a skosh of saline in mid-palate and finish. Balanced with good structure—pleasing interplay of ripe fruit, acidity, minerality. Long, tasty finish. Medium body. Pleasant in the mouth. Touch of phenolic bitterness/saline, which is common for South African chenin blanc. Touch of butter from malolactic fermentation. 13% ABV
The grapes for this vintage were sourced from two adjacent vineyards. The vineyards are part of the "Old Vine Project" planted in the 1970s and farmed following biodynamic principles. Minimum intervention. In the cellar, the grapes are whole-bunch pressed and lightly settled, followed by natural fermentation. Reyneke uses a combination of 300-liter, second-fill French oak barrels and 2,500-liter foudrés. The wine matures for 10 months on the lees before bottling.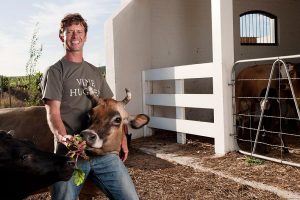 Johan Reyneke is the owner and winemaker. He is passionate about biodynamic farming in South Africa. The winery's website: "A biodynamic farm is often seen as an 'individuality'. It needs to be self-sustainable and self-supporting. This is important for two reasons; firstly, to reduce carbon footprint; and secondly, to be less affected by market forces.
"If the farm can produce its own fertilizer and compost, this will mean it's less dependent on trucking-in fertilizer in clouds of diesel exhausts. If the farm is self sufficient, their own cow manure 'costs' the same every day, irrespective of the price of oil. This understanding is simply the tip of an harmonious iceberg. Our philosophy of 'waste not, want not' runs deep into sustainability. Whatever we use, we carefully think about re-using, re-purposing or recycling."
While Johan Reyneke is an accomplished winemaker today, before that he was an accomplished surfer. There is a charming video where you get to meet Johan and experience his surfing and his philosophy and an impressive description of biodynamic farming—why he chose that approach and why it works. There is link to the video below.
Reyneke Chenin Blanc 2018 is clean, balanced, generous with its delicious ripe fruitiness. Nicely complex. Completely biodynamically farmed; minimal intervention in the winery. Good sipper now, but has aging potential to be held for several more years. Reserved alcohol sets it up as good food wine. Pair with shellfish; lean fish; spicy food; mild and soft cheese, goat cheese. $23-27
BBC show about Reyneke chenin blanc
Johan Reyneke the surfer and biodynamic farmer video
Johan Reyneke discusses biodynamic farming; fascinating
U.S. importer website with a section on Reyneke