Deep garnet color; plum, cherry, blueberry, raspberry, smoke, tobacco leaf on the nose; redcurrant, plum, black cherry, blueberry, pepper, herbs on the palate.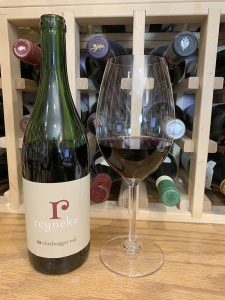 Dry; rich and intense—it is a blend of 85% syrah, 15% cabernet sauvignon—but it also has tame tannins with balancing acidity. Graceful easy-drinker rather than a bombastic red. Some leather and earthiness in late mid-palate and finish. Medium body. Some light oak notes. Very pleasant, extended finish. Polished taste throughout. 13% ABV
Johan Reyneke is the owner and winemaker. He is passionate about biodynamic farming in South Africa. The winery's website: "A biodynamic farm is often seen as an 'individuality'. It needs to be self-sustainable and self-supporting. This is important for two reasons; firstly, to reduce carbon footprint; and secondly, to be less affected by market forces.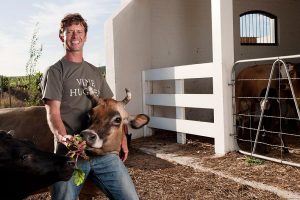 "If the farm can produce its own fertilizer and compost, this will mean it's less dependent on trucking-in fertilizer in clouds of diesel exhausts. If the farm is self sufficient, their own cow manure 'costs' the same every day, irrespective of the price of oil. This understanding is simply the tip of an harmonious iceberg. Our philosophy of 'waste not, want not' runs deep into sustainability. Whatever we use, we carefully think about re-using, re-purposing or recycling."
While Johan Reyneke is an accomplished winemaker today, before that he was an accomplished surfer. His wines reflect a laid-back, hey bitchin' bottle vibe. There is a charming video where you get to meet Johan and experience his surfing and his philosophy and an impressive description of biodynamic farming—why he chose that approach and why it works. There is link to the video below.
Reyneke Vinehugger Organic Red Western Cape 2018 is polished syrah-led blend that is gracefully respectful of your palate. Silky tannins, some acidity, reserved oak. Surprisingly demure for a syrah-cab blend. Reyneke is a leader in South African organic-biodynamic viticulture. He certainly coaxed a simple, tasty, everyday drinker out of Western Cape soils with this effort. Pair with rich cuts of beef; roast beef; steak kabobobs; lamb; grilled and baked chicken; blue cheeses—gorgonzola, roquefort; pecorino, gouda, grueyere, aged cheddar. $14-17
Johan Reyneke the surfer and biodynamic farmer video
Johan Reyneke discusses biodynamic farming; fascinating
U.S. importer website with a section on Reyneke