Pale garnet color; cherry, pomegranate, rose hip, leather, earth on the nose; sour cherry, black tea, cranberry, almonds, oak spice on the palate.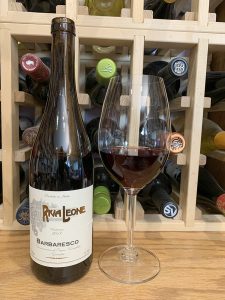 Dry; medium-plus body; chewy tannins with balancing acidity. Classic Barbaresco made with nebbiolo grapes. Aged two-plus years in American and French. Tannins are prominent, as you would expect in a Barbaresco, but it is well-balanced by acidity. Recommend decanting, pretty much standard on a young Barbaresco. 14% ABV
Riva Leone is a brand marketed and distributed by Mack & Schuhle, a top distributor in German-speaking countries and the United States. Riva Leone founded the winery in the Piedmont region of northwestern Italy. Leone was a leading ambassador for nebbiola grapes and the Langhe region of the Piedmont for much of the 20th century.
The northwestern Piedmont region is famed for two wines made with the nebbiolo grape: Barbaresco and Barolo. Although the regions at only 10 miles apart, they are distinct wines because of soil type, styles, and climate. Barbaresco has a slight maritime influence, which allows the grape to ripen earlier and go to fermentation sooner and finish fermentation in less time. Although nebbiolo is tannic grape, Barbaresco has somewhat less tannins—albeit still significant—than Barolo. Both must be aged to achieve their best.
At six years, Riva Leone Barbaresco DOCG 2017 has just entered its best drinking time. The grapes grew on calcareous marl in a continental climate. Grapes were crushed and destemmed, followed by up to eight days of maceration with daily pump overs. Then the two months in oak and release. This is affordable Barbaresco; higher quality ages for five years or more, many more if you are patient. This is released for consumption now, and as a wine reviewer I need to report on what it is now. Answer: good, should get even better and more integrated.
Riva Leone Barbaresco DOCG 2017 is affordable and approachable Barbaresco after just six years. Nebbiolo wines take years to express their quality, and consistently prove it is worth the wait. As expected with nebbiolo, tannins rule this effort, but they integrate nicely with the rich fruit and the complementing tannins. Barbaresco is not the preferred pour for wine neophytes. Experienced tipplers, however, will appreciate and enjoy this effort.
Pair with Italian cuisine, especially those involving beef and rich sauces. This has the tannic backbone and expressive dark fruits to complement almost any beef, veal, wild game, or pork dish. Roasted meats in particular, fettuccini ai funghi, risotto. Cheese—aged cheeses, strong cheeses; parmigiano reggiano, pecorino vecchio, aged gouda, aged cheddar; blue cheese—gorgonzola, castelmagno; rich cheeses—fontina, taleggio, boschetto at tartufo. $25-35
Mack & Schühle website (Riva Leone distributor)
Riva Leone does not have a website