Medium-pale yellow color; lemongrass, flowers on the nose; lemon, white peach, grapefruit, yellow apple on the palate.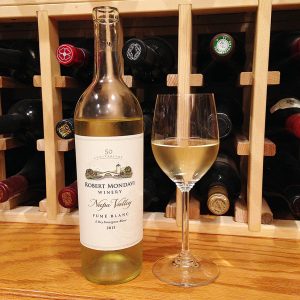 Bright, tasty, and refreshing, with the lemon flavors dominant; creamy; hints of oak—five months in French 60-gallon barrels, sûr lie (on the yeast lees). 96% sauvignon blanc, 4% semillon; 85% fermented in barrels for richness and complexity, the remainder in stainless steel to emphasize the fruit. Very nice acidity (3.21 pH); dry, but on sweeter side of that description; there also is fruit sweetness. Medium-light body; very nice mouthfeel. A delicious wine to sip just on its own; excellent alternative to chardonnay in this regard.
Fumé blanc is Mondavi's special take on sauvignon blanc. The made-up name originally was to set this product apart from inferior sauv blanc produced decades ago throughout the Central Valley. Since that time, sauvignon blanc has enjoyed a Renaissance with quality offerings from around the world, and Mondavi now puts "A Dry Sauvignon Blanc" note immediately under the Fumé Blanc name on the label. The addition of a dollop of semillon also is a signature of this effort. It is not like efforts from Marlborough in New Zealand, more like Sancerre, but at its core it is Napa/Mondavi take on the varietal.
Robert Mondavi built his namesake winery in 1966 with the expressed purpose of making wines in the Napa Valley that could compete on the world stage. He succeeded. He chose To Kalon Vineyard in the heart of Napa as home for the winery; 13% of the grapes in this effort come from that historic vineyard.
Robert Mondavi Winery is a master at superb, large-scale production of wine that faithfully expresses the varietal or a style, a legacy of the founder, Robert Mondavi, who revolutionized wine making and marketing. Constellation Brands owns Mondavi now, but the affordable quality remains, as do key personnel who were mentored by Robert.
Geneviève Hanssens is the director of winemaking today. She started at Mondavi in 1978 and was named Winemaker of the Year by Wine Enthusiast in 2010. Megan Schofield is lead winemaker for their fumé blanc program.
Robert Mondavi Winery Napa Valley Fumé Blanc 2015 is an iconic wine made by an iconic winery. Like most sauv blancs, this will pair well with variety of foods, especially fish, shellfish, and lighter cheese. It has enough body and distinctive character to serve as an aperitif or to be sipped solo as a cocktail hour wine. Very refreshing and delicious. $17-20