Deep gold color; peach, melon on the nose; Meyer lemon, peach, green melon, pear on the palate.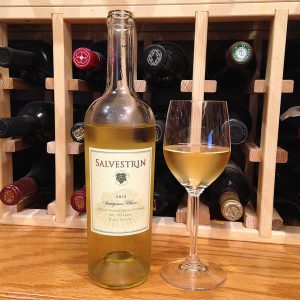 Does not have the cutting acidity you typically expect in sauv blanc; creamy in the mouth, full bodied, some minerality (especially on the finish). Not what you typically expect in a sauv blanc, but deserves to be appreciated for what it is. Half fermented in stainless steel, and half in neutral oak, so good fruit and hint of wood. Nicely round and enjoyable finish.
The Salvestrin story began when John and Emma Salvestrin visited friends in St. Helena in the early 1920s. In 1932, they purchased part of the historic Crane Ranch, including Dr. Crane's Victorian home. At the end of Prohibition in 1933, they began growing grapes for the re-emerging California wine industry.
Their son, Ed Salvestrin, grew grapes from the 1960s to the 1980s, preserving the family legacy. Ed continues to live at the vineyard and contribute to the family business. In 1987, Rich Salvestrin completed his degree in viticulture at Fresno State University and returned to the family vineyard to help farm and to grow the business into actual wine making. In 1994, he produced the first Salvestrin Cabernet Sauvignon vintage. In 2001, an estate winery was built on the family's vineyard land. Today, the fourth generation—all girls—are growing up amid the growing vines. They likely have a bright future: more and more women are leading the way in wine making.
Salvestrin believe in sustainable agriculture, following holistic guidelines since 2006. Fruits trees are planted around the property to provide habitat from beneficial insects. Nutrient composts and cover crops increase soil biodiversity. Salvestrin vineyards and winery are certified Napa Green and for fish-friendly farming practices.
Salvestrin LeBlanc Crystal Springs Vineyard St. Helena Sauvignon Blanc 2012 is rounder, smoother, less acidic than a New Zealand sauv blanc, more closely resembling a Sancerre in spite of oak influence. Nice change of pace from Marlborough's knife-on-tongue pours. $27