Pale ruby color; cherry, spice, whiff of smoke on the nose; cherry, redcurrant, raspberry, strawberry on the palate.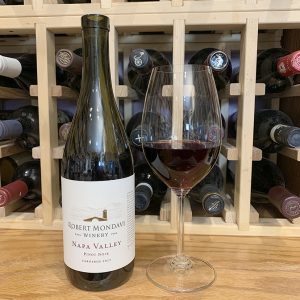 Dry; ripe, reserved tannins; balancing acidity. Medium body. This is entry-level pour in Mondavi's pinot noir portfolio. You can spend twice as much on reserve and specific clone efforts and get greater depth and quality. This effort is serviceable, not awe-inspiring. It certainly is better than cheaper commodity California pinots, but not as delightful as some Washington-Oregon pinots at roughly the same price. It is widely distributed, and thus easy for you to find.
Robert Mondavi Winery is a master at superb, large-scale production of wine that faithfully expresses the varietal or style. That carries on the legacy of the founder, Robert Mondavi, who revolutionized wine making and marketing of wine. Constellation Brands owns Mondavi now, but the affordable quality remains. Genevieve Janssens is Mondavi's chief winemaker.
About an hour's drive north of San Francisco, Napa is the New World's most famous and prestigious wine region. Carneros includes parts of both Napa and Sonoma counties. Napa-Carneros lies immediately north of San Pablo Bay, and the cool fog and breezes from the bay make the climate in "Los Carneros" cooler than locations further north in Napa. That is ideal for pinot noir (and chardonnay). Carneros received AVA (American Viticultural Area) status in 1983 and was the first wine region in California to be defined by climate characteristics rather than political boundaries.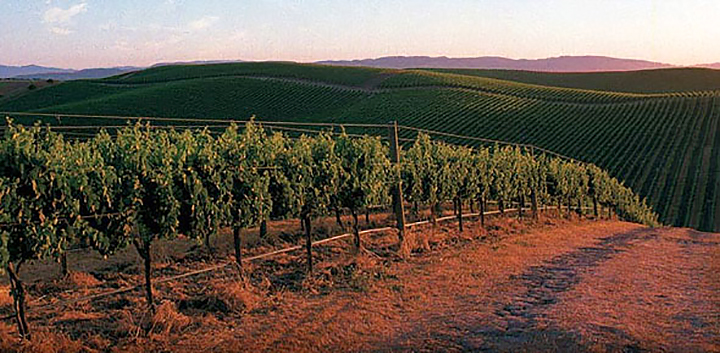 Mondavi commits to sustainability. The winery has earned certification for California Certified California Sustainable Winegrowing, Napa Green Certified Winery, Napa Green Certified Land, and Fish Friendly Farming. Mondavi repurposes retired steel fermentation tanks to collect runoff water for re-irrigation, "saving mills of gallons of water per year."
Louis M. Martini started the wine story in Carneros in 1942. By the 1970s, the region had more than 1,300 acres in vines and was particularly noted for California sparkling wines. When phylloxera attacked the vines in the late 1980s, grape farmers embarked on extensive replanting with phylloxera-resistant rootstock and introduced new French clones of pinot noir and chardonnay. Today there are more than 6,000 acres of vines in the 90 square miles of the AVA.
Robert Mondavi Winery Pinot Noir Napa Valley Carneros 2017 is smooth, easy drinker. Nice fruit. Very serviceable if not outstanding. Widely available and consistent vintage-to-vintage. Pair with the usual pinot noir suspects—salmon and other fatty fish; seared tuna; roasted chicken; pasta dishes; stews like beef bourguignon; rack of lamb; lighter cuts of red meat; meatloaf. $25-28