Pale yellow color; mango, gooseberry, honeydew, hint of cut grass on light nose; grapefruit, lemon, key lime pie, pear, yellow apple, honeydew melon, pineapple on the palate.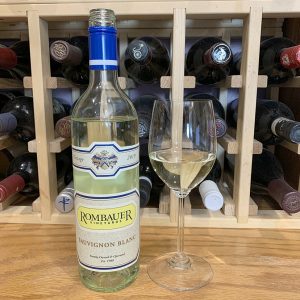 Dry abetted by fruitiness; crisp, lively acidity. Slight spritzy action on the pour. Vibrant, but also creamy and pleasing in the mouth rather than razor sharp you get from New Zealand. Medium body. Gentle whole-cluster pressing gave boost to light herbaceous hints. Fresh, focused around frame of acidity. Finished in 88% steel tanks, 10% neutral French oak, 2% concrete tanks. Nice zest, lemongrass, and late acidity kick on the very pleasing finish; 14.2% ABV
Koerner Rombauer enjoyed a nearly 30-year career as a pilot. First with the California Air National Guard in 1956, then as a commercial pilot beginning in 1965. Although Koerner and Joan Ransome attended the same high school in Escondido, California, they did not begin dating until they meet after college. In 1959, they married.
Seeking a small-town, agricultural life, the Rombauers and their two children moved to Napa Valley in 1972. They first rented a property on Highway 29, then purchased a home atop a knoll on 40 acres in St. Helena in 1974. They got into the wine business as partners in the Conn Creek Winery in 1976, then sold their Conn Creek interest to start their own winery in 1980.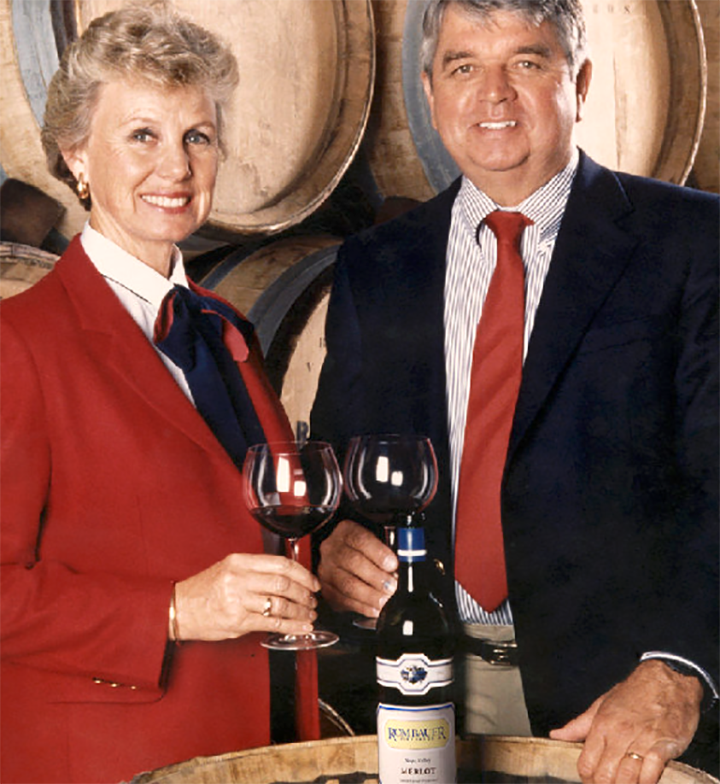 Wanting more knowledge and experience, Joan joined the sales team at Stag's Leap Wine Cellars in 1981. Over the next 12 years she became national sales director. The inaugural wines for Rombauer Vineyards were bottled at Stag's Leap in 1982. Later, the Rombauers built a winery larger than their needs to serve as their winery and as a custom-crush facility for up-and-coming elite wineries: Dominus, Duckhorn, Merryvale, Etude, Spottswoode, and other signal makers today.
Rombauer wines won accolades in the following years. Although their first emphasis was cabernet sauvignon, in 1995 their Carneros chardonnay ranked as No. 32 on Wine Spectator's Top 100 Wines list. They now are known as much for their chardonnays as their cabs. In January, 2019, they purchased the former Renwood Winery, in part to increase their focus on zinfandel and other red wines.
In 2002, Joan passed from pancreatic cancer. The family established endowments to support University of California–San Francisco's pancreatic research efforts and the Napa Valley Hospice & Adult Day Services. Richie Allen joined the Rombauer team in 2008. He rose through the ranks and is head winemaker today. In 2015, Rombauer Vineyards celebrated its 35th anniversary as family-owned winery, operated by Koerner and his children, KR and Sheana. In 2016, Reagan Rombauer Blackwood became the third generation to join the team. In 2018, Koerner passed at age 83.
Rombauer Sauvignon Blanc, California 2019 has more body than typical sauv blanc, giving it a more rounded feel rather than razor on the tongue. Nice fruit salad blend of lemon-lime, tropical and melon fruit flavors. Clean, focused. Smoothed with a small portion finished in neutral oak. Pair with shellfish; fresh water fish; lighter meat seafood; poultry; vegetarian fare; garden salad; goat cheese. Being sauv blanc, you can pair with almost anything short of rich red meats and thick, sizzling, heavily marbled steaks—and even then it would not be an embarrassing fail. $24