Pale gold color; apple, honeysuckle, citrus, minerals on the nose; green apple, pear, eucalyptus, stone fruits, almond on the palate.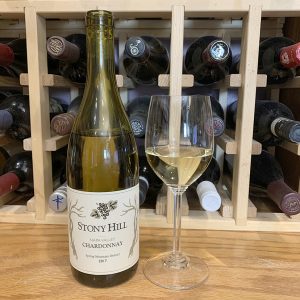 Dry; crisp acidity; fruit-forward. Smooth, lean, elegant. Medium body. Great mouthfeel. Drinks like a white Burgundy (chardonnay). Only the very slightest whisper of oak—finished in 10-year-old neutral French barrels. No malolactic fermentation. This is the opposite of a blousy, oaky, buttery cartoon Cali chard; 13.5% ABV.
My review of the previous vintage of this effort largely tracks with this one. This may have a slightly lighter body, and my palate caught a few different nuances and did not find a few others. But that easily could just be how my senses worked that day. Wine tasting and writing word descriptions is by no means an exact science. Stony Hill has a long reputation for excellent chardonnays built for aging. This clearly qualifies.
Stony Hill has been a cult classic for more than 60 years. Fred and Eleanor McCrea discovered the property that would become Stony Hill in the early 1940s. They made the location their home in 1943. Lovers of white Burgundy, they planned to plant the entire estate in chardonnay, but advisors recommended diversification. Planting started in 1948, and while it was mostly chardonnay, riesling and pinot blanc were included, followed by gewurtztraminer and semillon.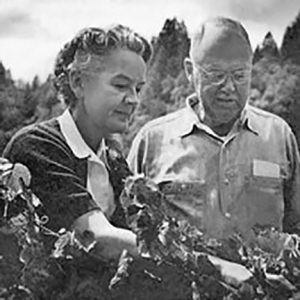 The McCreas brought in the initial Stony Hill harvest in 1952. Two years later they were selling every bottle via their mailing list, with a waiting list growing each vintage. Eleanor ran the business, Fred made the wine. From the beginning, the style was restrained and minimalist. The McCrea knew their soil made exceptional wine if they just did not screw it up.
Fred died in 1977, and his assistant and protégé Mike Chelini took the lead. Forty-one years later, he produced this effort. Eleanor passed in 1991 and her son, Peter, and daughter-in-law Willinda took over day-to-day management. Sarah McCrea, granddaughter of Fred and Eleanor, later took over the operation.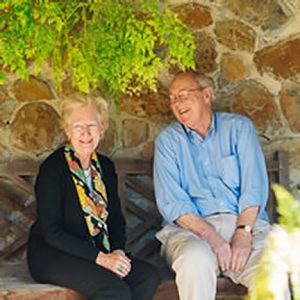 This bottle is the last vintage before the McCreas sold Stony Hill to Long Meadow Ranch. Fortunately, Long Meadow is a quality, family run producer. Long Meadow's Chris Hall notes the families have been friends for years. Sarah McCrea agrees, feeling the transaction makes two family businesses a stronger whole. Certainly, Long Meadow will give Stony Hill wider distribution. Most of Stony Hill's production was sold directly, not through distributors. Long Meadow has much more scale, producing 75,000 cases a year prior before combining with Stony Hill.
Stony Hill Chardonnay Napa Valley, Spring Mountain District 2017 delivers smooth purity, precise and delicious chardonnay. Legendary cult maker has upped production and availability without sacrificing quality. It speaks volumes about the Stony Hill terroir, also about the skill of a winemaker with 41 years of experience with the treasures the land gives him. Pair with oysters (the ultimate Chablis-type chardonnay pairing); shellfish in general; fish and seafood, especially when cooked in butter; simply-cooked salmon, salmon fishcakes; pork; chicken; almost anything with a cream sauce; mushrooms; white cheeses, goat cheese. $48-57