Deep purple-red color; red fruits, blueberry, vanilla on the nose; red and black cherries, sour cherry, raspberry, blackberry, red plum, load of spice on the palate.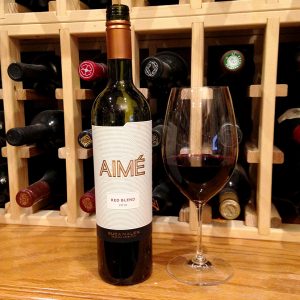 Dry; nice acidity for a red blend (3.68 pH); very soft, dusty tannins; after smooth initial attack there is a little bite in mid-palate and finish amid the flashy spice notes; very little oak influence. Blend of malbec, bonarda, cabernet sauvignon, and merlot. Benefits from decanting, which knocks down some of the rustic elements encountered on pop-and-pour. Distinctive, engaging taste—surprise your palate and your wine-drinking friends.
This is first vintage of Aimé, Ruca Malen's "lifestyle wine," available in the U.S. It was introduced in Argentina a year earlier. After decanting, it more closely resembles the winemaker's more upscale pours and represents very nice value. You likely are familiar with malbec, likely less so bonarda. Bonarda is Argentina's second-most planted red grape (behind malbec); it has soft tannin, low alcohol, velvety palate, intense color, and fresh red fruit aromas. Behaves like an exotic merlot in the blend. Bonarda is rare grape in Savoie, France, where it is called douce noir, and also can be found in California, where it is called charbono, but almost all bonarda grapes grow in Argentina.
The romantic "Ruca Malen" winery name comes from a Mendoza legend. Love betweens gods and mortals was forbidden, which caused Mapuche women to look down out of fear of meeting a god's fierce gaze. One day the most daring Mapuche woman, however, walked with her head raised, and when she encountered a god she met the god's gaze without fear and instantly fell in love. The god, touched by her love and courage, offered the woman an elixir to join him as an eternal being. In return, she gave him a home, "the young girl's house"—Ruca Malen—so they could be together and create a new lineage of legendary gods.
There are two real life stories going on here—Bodega Ruca Malen, a quality Mendoza maker ("Modern, nicely crafted wines designed for the table, easy to drink"—Luis Gutiérrez/The Wine Advocate), and the U.S. importer, Hubert Opici, a legend in the wine world who celebrated his 100th birthday in 2016. I've included links to the winery website and Opici's website, an informative Opici's website video, and a link to great interview by Gary Vanerchuk with Hubert Opici. If you are deep into the wine weeds, you will enjoy the websites and videos.
The winery traces its roots to 1998 when Jean Pierre Thibaud and Jacques Louis de Montalembert decided to build a winery in Mendoza. In the charming English translation description on the winery's website, the two "confessed to each other the desire to build their own winery." Thibaud was leaving the presidency of Chandon Winery Argentina after 10 years and Thibaud had experience in Burgundy. Their first harvest was in 1999.
Ruca Malen Aimé Red Blend 2016—if you are into red wine and want to challenge your palate and get you out of a same-old same-old rut, this is a wine to try. Pair with red meats, tomato and meat-based pasta dishes, hard cheeses, pizza. $9-11
U.S. importer's video about Ruca Malen
Gary Vanerchuk interview with Hubert Opici