Medium yellow color; grass, citrus, lemon on the nose; grapefruit, lemon-lime, white peach on the palate.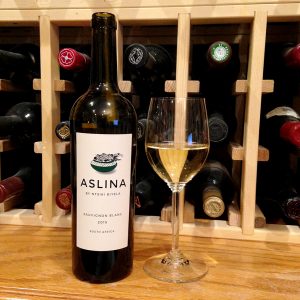 Dry; good acidity (3.3 pH) balanced with tiniest hint of sweetness (3.2 g/L RS); round, smooth in the mouth for a sauv blanc; excellent food wine that has enough character and tastiness to be sipped solo. Nice complexity as the various citrus elements play out through the mid-palate after the initial grapefruit attack; pleasingly long finish where lime and acidity take the lead. Evolves with exposure to air in the glass.
This is made by Ntsiki Biyela, South Africa's first black female winemaker and brand owner. Aslina is the name of Ntsiki's late grandmother who guided and cared for Ntsiki while she was growing up. Ntsiki spent 13 years as a winemaker and ambassador for Stellekaya wines before starting her own brand. She also collaborated with California winemakers and was a wine consultant in France.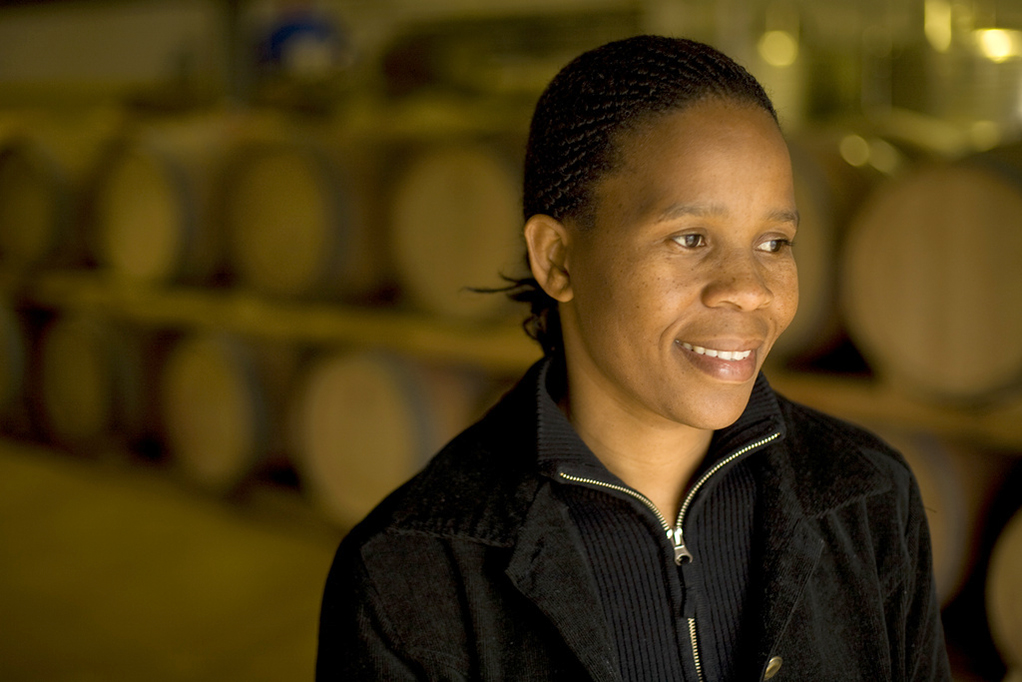 Ntsiki grew up in Mahlabathini, a rural village in Kwazulu Natal and graduated from high school in 1996. in 2004 After a year as a domestic worker and after South Africa abolished apartheid, she earned a scholarship to study winemaking and graduated with a BSc in agriculture (viticulture and oenology) from Stellenbosch University. There were obstacles galore. She did not speak Afrikaans, but had to learn it because it was the language used at the university. She told an interviewer: "It was difficult. I didn't know Afrikaans but I had no choice." The South African wine industry also was not welcoming to women, much less black women. She persisted. Her first harvest, in 2004, produced an award-winning wine. Talent and tenacity overcomes obstacles.
After joining Stellekaya, Ntsiki was named Woman Winemaker of the Year in 2009 and is a two-time finalist for title of The Most Influential Women in Business and Government in South Africa. She and her story receive extensive media coverage: front page of the New York Times, appearances on CNN, SABC, Good Morning America, and more.
Those honors are well, good, and deserved, but this is well-made, easy drinking, varietally correct (typisity) sauvignon blanc no matter the sex, race, or country of origin. You will enjoy this wine, especially with a meal. The back-story is value-added bonus. Availability may be somewhat limited, but Ntsiki positions her brand for the export market, specifically the U.S., so look for it, ask for it, go online to find it.
Aslina by Ntsiki Biyela Sauvignon Blanc South Africa 2015 is a well-made, palate pleasing and palate cleansing sauv blanc made by a rising star in the South African wine business. After a nondescript history, South Africa today emerges as an important player in the wine world with quality wines at excellent price points. This is an example. Pair with delicate fish, oily fish (sardines, mackerel), oysters, Mexican and Tex-Mex food, green vegetables (asparagus, zucchini, peas, artichoke), goat cheese and garlic-herb cheese such as Le Roulé and Boursin. $20