Deep ruby color; blueberry, black cherry, boysenberry, cedar on the nose; black cherry, blackcurrant, plum, blackberry, coffee, chocolate on the palate.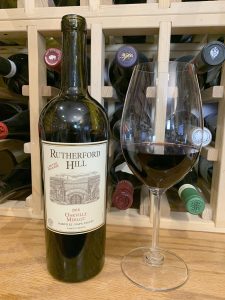 Dry; somewhat tannic for a merlot—reflective of famed "Rutherford dust" mouthfeel. It smoothed out nicely after decanting. Even after the decant, this is broad, rich, assertive merlot. Blend of 94% merlot, 5% petit verdot, 2% cabernet sauvignon aged 20 months in 40% new French oak. If you think of merlot as the milquetoast cousin of cabernet sauvignon, this is here to change your mind.
Full body. Plenty of aggressive dark fruits. Same time, soft on the acidity and slightly reserved on the tannins, especially after decanting. Fruitiness dominates the experience. Not for those who are skittish about pushy red wines, but has its charms if you enjoy running with the big dogs, especially paired with extravagant red meat. 15% ABV
Rutherford Hill prides itself in a primary, but not exclusive, focus on merlot. They also have significant cave capacity. The website notes: "At Rutherford, we have one of Napa Valley's most extensive cave systems that run nearly a mile long.  The caves offer ideal conditions for aging our elegant wines, the high humidity and low temperatures produce an environment that minimizes evaporation and human interaction allowing them the age gracefully."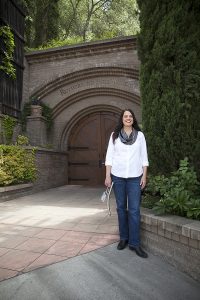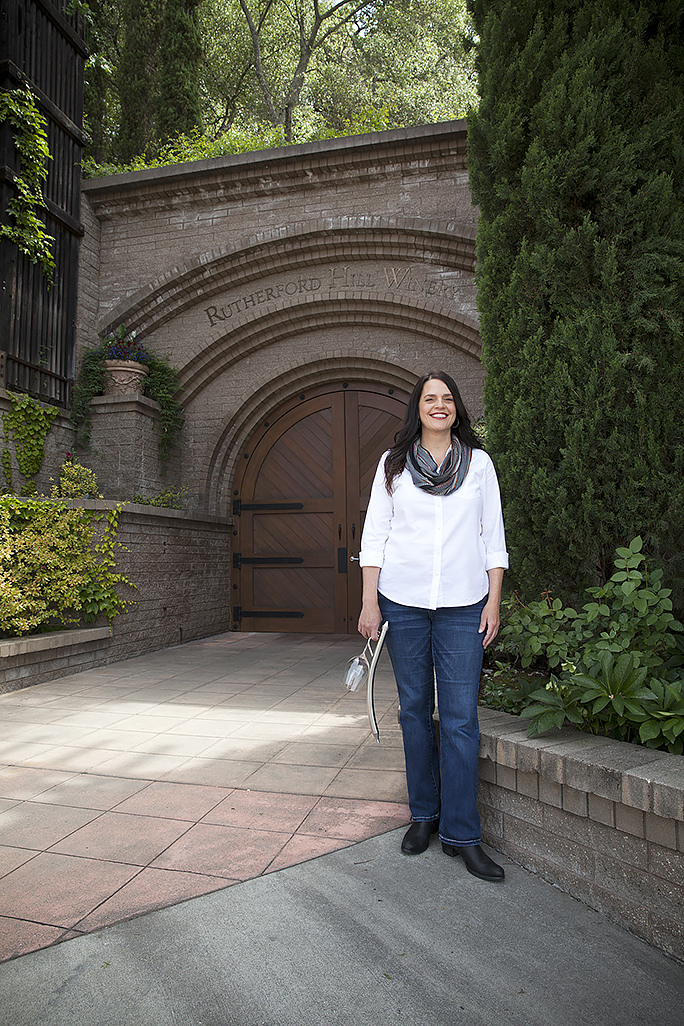 Marisa Taylor is the winemaker. She grew up in wine country; her godfather was a vineyard manager. She earned a BS in chemistry from Cal-Davis, then added an MS in food science–ecology. She describes herself as a "lab rat" with a passion for analytical details. She has been with Rutherford Hill for almost two decades and added the general manager role in 2014. She also is a two-time cancer survivor. One tough, talented woman.
The website notes: "Marisa is part of a talented winemaking team at the Terlato Wine Group's Rutherford Hill Winery in Napa Valley, crafting its award-winning Chardonnay, Merlot and Cabernet. She is happy, challenged and enjoys all aspects of winemaking. In her free time, Marisa enjoys quilting, gardening and entertaining family and friends."
Rutherford Hill is a Terlato Wine Group brand and Rutherford Hill was their first purchase to become vintners as opposed to wine marketers. The Terlato Wine Group (TWG) is a four-generation American, family-owned wine company based in Lake Bluff, Illinois. The Terlatos place an admirable emphasis on building a strong, family-owned and operated company. Participation, however, must be earned. Each Terlato must work outside the family business and rise to a management position before they achieve a place in the Terlato management team. Anthony Terlato, the family patriarch received Wine Enthusiast's Lifetime Achievement Award in 2015. Their guiding principle: quality first because quality endures. They are the largest seller of luxury wines in the United States.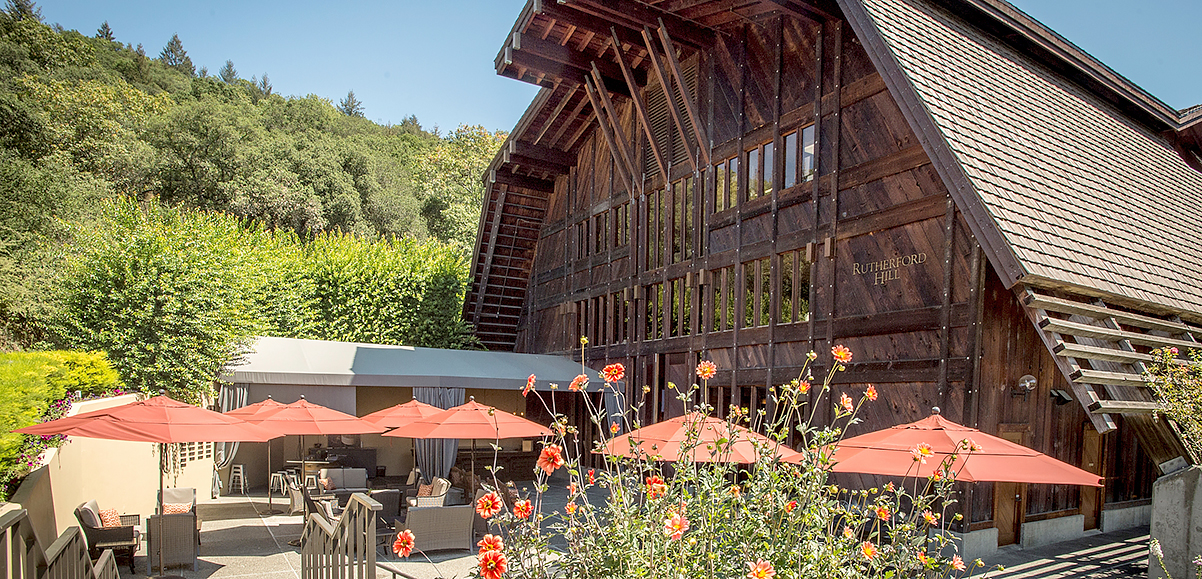 Rutherford Hill Limited Release Oakville Merlot, Napa Valley 2018 is juicy, fruit-assertive merlot filled with dark fruit flavors. Rich, opulent. Soft acidity, tannins smooth out nicely with decanting. Rutherford Hill Winery makes huge commitment to merlot in Bordeaux's Pomerol style. Merlot is three-fourths of their production, and this is several clicks above their entry-level efforts. Pair with lamb chops and other cuts of lamb; brawny beef; veal; red meats in general—lighter, whiter meats, not so much. Aged hard cheese. The winery website has a number of pairing recipes. $50-65