Pale straw color; golden apple, floral nose; yellow and green apples, pear, pineapple, honeydew melon, citrus, chalk on the palate.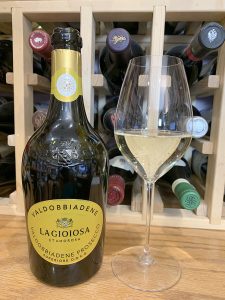 Extra dry; very tiny, persistent bubbles; good acidity. The characteristic hint of sweetness from glera grapes, but not a sweet wine. Valdobbiadene Prosecco Superiore is the top of the prosecco pyramid; it includes 265 acres just outside Valdobbiadene in the province of Treviso and just below the Alpine-Dolomite areas of Veneto. 11% ABV
Whole grapes were pneumatically soft-pressed. The must is put into controlled temperature tanks, yeast cultures are added and fermentation occurs at around 60 degrees. When alcohol and sugar content goals are met, fermentation is stopped by refrigeration.
The Moretti Polegato founded La Gioisa ("the joyous") winery in 1974. The Treviso region has long been known as a "joyous" region because of its lush farmlands and widespread prosperity. Today the winery produces a range of prosecco products, including low-calorie efforts and organically-farmed prosecco.

The website notes: "The winery is currently converting its vineyards for Biodiversity Friend certification from the World Biodiversity Association. All of its wines are produced by immediately chilling the grape must to nearly freezing as soon as the bunches are picked. The must is then preserved low temperatures until the moment the winemaker decides to give it its sparkle. This costly but highly effective process helps to ensure the wine's signature freshness and high quality. The historic Moretti Polegato family was recently recognized as one of post-war Italy's 'business leaders' by the Italian chamber of commerce for its role in popularizing Prosecco throughout the world."

La Gioiosa Et Amorosa Valdobbiadene Prosecco Superiore DOCG NV is fresh, vibrant, with just the touch of sweetness you want from a top-shelf prosecco juxtaposed to tartness on the mid-palate. Good, food-friendly acidity. Extremely fine bubbles. Straightforward prosecco with touch of elegance. Good QPR (quality-price ratio). Excellent as an aperitif; pair with antipasto, charcuterie board; fish with light sauces; steamed clams; herb-based first courses; spicy Asian cuisine; vegetarian fare. $16-22
Ethica Wines, U.S. importer website