Classic very dark red malbec color; red berries, black cherry on the nose; dark fruits, black raspberry, blackberry, red currant, pinch of black pepper on the palate.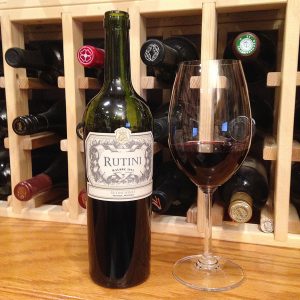 A bit biting and rustic on pop-and-pour, but it smooths out with decanting, revealing the expected softer malbec tannins (although the tannins retain some grip—malbec has tannin, it just is more velvety than cab tannin). Good acidity and minerality. Mouth-filling juicy black fruits, some vanilla from a year on new French and American oak, a hint of mint. Smooth drinker from 100% malolactic fermentation. Dry, nicely focused, balanced effort, especially after decanting.
Rutini is one of Argentina's big three global players—Catena and Norton are the others. The winery was founded in Mendoza in 1885 by Italian Felipe Rutini. The vineyards are located in one of the holy grails of Argentine malbec—the high altitude Uco Valley (2,800 to 5,000 feet), the reason (along with the pre-phylloxera malbec cuttings imported to Argentina from Bordeaux in the mid-19th century) that Argentina produces the unchallenged world standards in malbec.
Rutini's winemaker Mariano Di Paola recently was named one of the top 30 winemakers in the world by Decanter magazine. Di Paola is noted for attention to quality and allowing wine to reflect its place rather than steering the product to fit the latest trendy flavor profile. He also is noted for modernizing vineyard and winemaking practices, which he has done at Rutini since 1995. Rutini's goal is to become the most prestigious Argentine producer of premium wines worldwide, the goal too of Catena and Norton. The world gets to savor the happy joys of that competition. In any event, malbec is a spectacularly versatile and delicious wine, one of the great varietals of the world—when it comes from the high desert regions of western Argentina.
Rutini Malbec, Mendoza 2012 is example of the wonders of Argentinian malbec. At bit pricey, but smooth and delicious after exposure to air. You can do a lot worse in the wine world by drinking yourself through all-star lineups of Argentina malbecs. Look for Mendoza, look for high altitude vineyards, enjoy some really sublime wines. $35-40
Other photos: Rutini winery and vineyard; Rutini barrel room