Dark garnet-magenta color with some translucence; dark fruits, cherry, plum on the nose; blackberry, sour cherry, blackcurrant on the palate.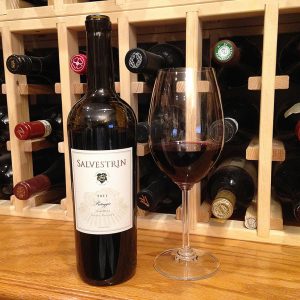 This is a Super Tuscan blend of sangiovese, merlot, cabernet sauvignon, cabernet franc. Medium body, soft tannins, dry, vivid fruits, nice structure, oak, sour cherry lingers on long finish. Bold with elements of Italian elegance and Napa New World big bright fruit, creating an intriguing drinking experience. Appropriate—could be better—acidity, good complexity from initial attack to finish, smoothly well behaved. Benefits from decanting.
The Salvestrin story began when John and Emma Salvestrin visited friends in St. Helena in the early 1920s. In 1932, they purchased part of the historic Crane Ranch, including Dr. Crane's Victorian home. At the end of Prohibition in 1933, they began growing grapes for the re-emerging California wine industry.
Their son, Ed Salvestrin, grew grapes from the 1960s to the 1980s, preserving the family legacy. Ed continues to live at the vineyard and contribute to the family business. In 1987, Rich Salvestrin completed his degree in viticulture at Fresno State University and returned to the family vineyard to help farm and to grow the business into actual wine making. In 1994, he produced the first Salvestrin Cabernet Sauvignon vintage. In 2001, an estate winery was built on the family's vineyard land. Today, the fourth generation—all girls—are growing up amid the growing vines. They likely have a bright future: more and more women are leading the way in wine making.
Salvestrin believes in sustainable agriculture, they have followed holistic guidelines since 2006. Fruits trees are planted around the property to provide habitat for beneficial insects. Nutrient composts and cover crops increase soil biodiversity. Salvestrin vineyards and winery are certified Napa Green and for fish-friendly farming practices.
Salvestrin Retaggio Red Wine Napa Valley 2011 big red that needs decanting, but decanting will reward the effort. Rich, smooth, silky, not exactly what you expect from Super Tuscan, but interesting. See what you think. $39-48