Deep ruby color; black cherry, plum, spice on the nose; plum, black cherry, raspberry jam, cola, vanilla, licorice, toasted oak on the palate.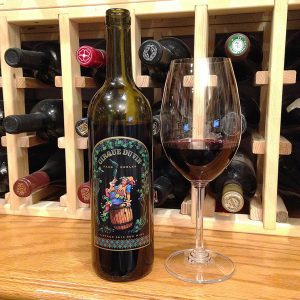 Round, juicy; dry; plenty of fruit sweetness (not the same as residual sugar); medium body; smooth; good amount of integrated oak, but stops short of oak monster territory; soft easy drinker with reserved acidity (3.81 pH) and relaxed tannin.
The 2013 play is Bordeaux meets Rhône meets Central Coast meet Argentina blend of 25% syrah, 20% petit sirah, 17% cabernet sauvignon, 14% malbec, 12% petit verdot, 12% merlot. The formula changes each vintage; sometimes zinfandel has a lead role—there is no zin in the 2013; sometimes merlot is the star—merlot plays a bit part in 2013. Yes, this is a mash-up of fruit Peach Canyon had sloshing around, but these winery mash ups often are captivating and delicious. This is very tasty wine, even if the flavors are all over the place—maybe because the flavors are all over the place.
Nancy and Doug Beckett founded Peachy Canyon in Paso Robles in 1988. Originally a modest 500-case venture, today the product sells in 48 states, Canada, the Pacific Rim, and Europe. First a school teacher, then a partner in a small chain of convenience stores, Doug moved his family to Paso Robles in 1981 and supported his wife and two sons as a carpenter who worked exclusively on barns. In addition to starting the winery, Doug developed land, sold real estate, taught school as a resource specialist, and started an import-export company specializing in art glass from Eastern Europe.
Nancy Beckett also was a teacher. In 1991 she became part owner of Class Act Dance Studio, satisfying her love of tap dancing. She has retired from running the dance school business, but still teaches classes. The couple's sons stayed with the family business, Jake as the head of sales and marketing and Josh as head winemaker. Today, Peach Canyon is the largest family-owned winery on the west side of Paso Robles.
Peachy Canyon made its name with zinfandel, a staple of the scorching hot climate in Paso Robles, but the Paso Robles AVA has emerged from its chrysalis of high alcohol, high tannin zinfandel stage and now aspires to step up as a serious AVA. The secret is the 100-degree days are followed by 50-degree nights; the days belong to sol, the nights to cool Pacific breezes. Paso Robles may have the greatest diurnal (day-night) temperature range in California, among the greatest in the world. Grape growers and wine makers love that. It makes for big fruit without tossing aside acidity and is a characteristic of many of the world's greatest wine growing areas.
Peachy Canyon Cirque du Vin Red Wine Paso Robles 2013 is a kitchen sink of grapes and flavors pulled together by relatively aggressive use of oak, but there is skilled winemaking here, so it does not descend into a parody of a blend. If you enjoy lots of fruit and a layer of oak, you will love this wine this vintage. Pair with shepherd's pie, pot roast, beef bourguignon, lasagna. Comfort wine pairs with comfort food. $18-19