Deep purple color; black cherry, plum, blackberry on the nose; black fruits, black cherry, black plum, blueberry, licorice on the palate.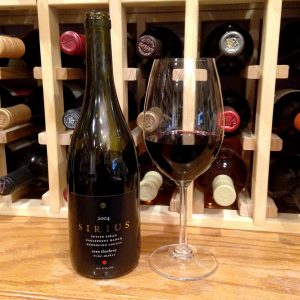 Dry; full body with great texture; vivid, jammy, delicious dark fruits; medium-full body; assertive tannin even after 14 years. While not complex, it is smooth with depth and richness. Power remains through the long finish.
Sean Thackrey has been a major force in the Bay Area Food & Wine community for more than three decades, mentioned in the same sentence with Kermit Lynch and Alice Waters. He has produced wines since 1980 that are great quality and complexity using extraordinary techniques drawn from historic, sometimes ancient, wine making practices from all over the world.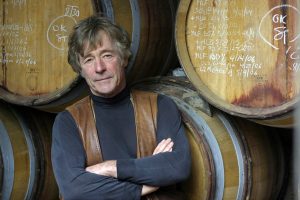 As his website notes: "Sean sources grapes from many locations throughout California, and makes all his wines by hand—'touching every grape'—at his small Bolinas winery. Self-taught, and fully reliant on his intuition and senses, Sean is the antithesis of corporate wine-making. The proof is in the bottle."
Essentially a negotiant (someone who buys grapes to make wines but does not own or farm a vineyard), Thackrey clearly marches to his own drum cadence. "My job is to create pleasure," he has told interviewers. He often challenges notions of what wine and winemaking are all about, but virtually everyone admits he does so with doses of wit and bemusement. And that he achieves marvelous, often sensational results.
Sean Thackrey Eaglepoint Ranch Sirius Petite Sirah, Mendocino County 2004 is distinctive take on petite sirah by iconic, eccentric, wildly talented winemaker. Expect rich fruit and richness and depth of flavors. This clearly is wine one you can just enjoy solo; food pairings include meats that are roasted or smoked; roast pork; barbecue beef; burgers; chicken in mole sauce; sautéed mushroom; eggplant; aged gouda, camembert, melted Swiss cheese. $60-66