Deep ruby color; cherry, plum, blueberry on the nose; blueberry, raspberry, eucalyptus, plum on the palate.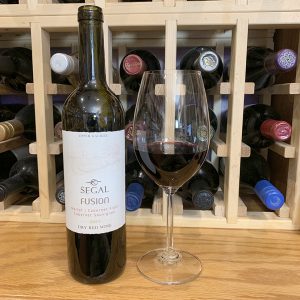 Dry; very soft and smooth; only hint of tannin. Fruit-driven without over-ripe grapes. Almost no oak, some acidity. Blend of 60% merlot, 20% cabernet franc, 20% cabernet sauvignon; 13% ABV. Micro-oxygenation helped produce a very round, easily approachable wine. You may want more character and depth from a Bordeaux-style wine, but this works if you want a simple, fun wine, especially at its price point. The wine is certified kosher for Passover.
Yankel Hirsh Segal and his family emigrated the Israel and settled in Tel Aviv. Brothers Elhanan and Yehezkel established distilleries in Tel Aviv, then—in the 1930s—in Beirut and Damascus at the request of the French. In 1954, the family decided to focus on wine production. At first the called the vineyard Zvi, then changed the name to Segal Wines.
In 2001, the Barkan Group purchased Segal's. Recognizing Segal's quality and tradition, the group allowed Segal's to be managed as an independent winery with it own installations and production processes. Avi Feldstein is the winemaker today. The website notes: "He first started out as a tour guide, later becoming a professional manager in charge of development. Avi had the best training possible for becoming a winemaker, learning everything in the vineyards from experienced winemaking veterans."
Segal's Fusion Dry Red Wine, Upper Galilee 2017 is simple, tasty, no fuss libation. Pair with dishes with tomato-based sauces; casseroles; meatloaf; poultry; milder-flavored pizza and burgers. A bit too soft to shine with assertive red meats. Can be enjoyed just on its own. $14