Deep copper-salmon color; apple. blood orange, peach on the nose; watermelon, strawberry, citrus, almond on the palate.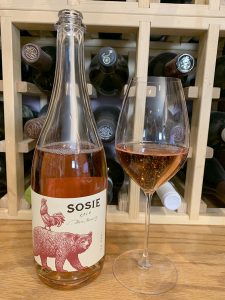 Brut, almost bone dry; refreshing, delightfully fun sparkling. Crisp on the initial attack, quickly smooths out for easy drinker by mid-palate and medium finish. Lovely color attained by the saignee (French for bleed) method where free run juice is bled after only a few hours of skin contact.
Persistent bubbles. Taut acidity. This new offering from Sosie Wine employs méthode champenoise (traditional method, same as used in Champagne) using syrah grapes sourced from the Vivio Vineyard in Sonoma County's Bennett Valley. Syrah is not a grape typically associated with sparkling rosé. In this case, it produces a very fruit-forward, lively pour.
The Sosie website explains the mission of its principals Scott and Regina MacFiggen and the winery name: "When we got into this business, it was with the conviction that our wines would stand for something. That they would not just have a style, but a purpose. We were going to craft our wines to be food-friendly. So: lower in alcohol, higher in acid, structured and layered and made in small batches with minimal intervention and the lightest touch of oak. What name might convey all that?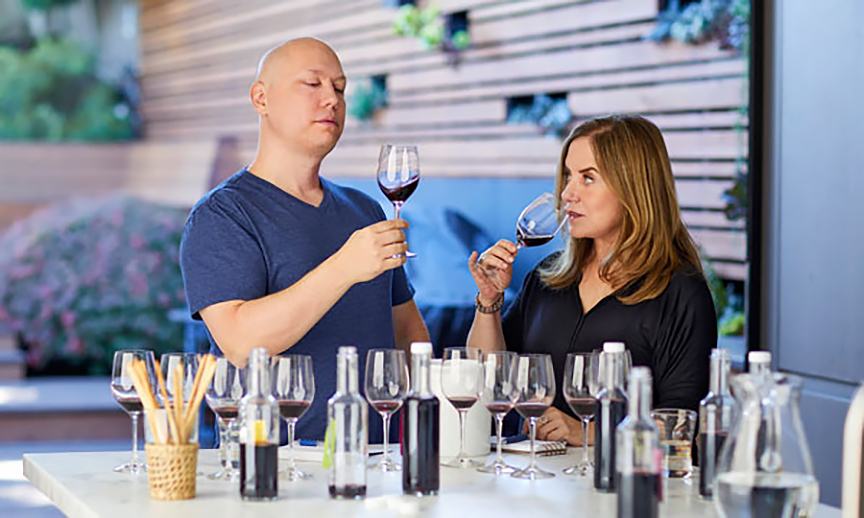 "We went round and round until we ran out of ideas. So we hired a writer and gave him a brief: New world wines for old world palates. He gave us 50 names, about half of them French. This made our heads swim. But when we evaluated them based what the words mean, how they sound, how distinctive they are, Sosie (so-zee) rose to the top. It's French for "twin or spitting image," which neatly summarized our winemaking aspiration. The fact that it sailed through the trademark gauntlet proved just how original it was." The bear represents California (the Golden Bear is that state's symbol), the rooster (coq) is France's national symbol.
Sosie Wine Bare Necessity Rosé, Sonoma 2018 is fruit-driven effort, more so than Old World efforts. Sosie is boutique producer expanding its reach. Creamy and delicious. Well worth finding a bottle. Best bet is online through the winery's website. With its excellent color and fruitiness, excellent choice for Valentine's Day pour either as an aperitif or paired with cheese and fresh fruit tray. Given its acidity, will do well with almost any food. $30