Deep ruby color; blackberry, black cherry, tea, cedar, leather, earth on the nose; blackberry, black cherry, blueberry, plum, blackcurrant, tobacco, mocha on the palate.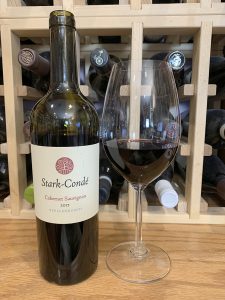 Dry; relaxed tannins that don't assert until late mid-palate and finish. Good balancing acidity. Vivid, rich dark fruit flavors. Stark-Condé refers to this as their "estate blend." The cabernet sauvignon grapes come from their four best vineyards in the Jonkershoek Valley. Bold, muscular. Medium-plus body. 14% ABV
Blend of 85% cabernet sauvignon, 8% petit verdot, 4% petite sirah, 2% malbec, 1% cabernet franc. Grapes picked into small lug boxes, cooled overnight, then hand-sorted and crushed into small open-top containers. After cold soak, inoculated with 40% natural yeast and remainder with imported Bordeaux yeast. Hand punch-downs every four hours for first half of the fermentation, then every six-to-eight hours. Basket-pressed and racked to barrel for malolactic fermentation and barrel maturation. Aged 20 months in small French oak barrels—79 gallons—30% new. Bottled without fining; minimal filtration.
The winery has an interesting and South Africa-specific story. The website relates: "The origin of the winery is serendipitous, but the story of the founding family is more complex. South African patriarch Hans Schroder (b. 1938) was raised in Stellenbosch but spent much of his adult life abroad. In the 1960's while attending university in Japan, Hans met and married fellow student Midori Maruyama. At the time, their marriage contravened the apartheid regime's Prohibition of Mixed Marriages Act so the young couple settled in Japan. They remained in Tokyo for the next 30 years where they raised three daughters—Marie, Lisa, and Miki. Fast forward to the late 1980's—the end of apartheid was inching closer and Nelson Mandela's release was imminent. Hans and Midori decided it was time to return to South Africa and be part of the positive change. They purchased the Oude Nektar farm in 1989 and focused on growing grapes."

When the Schroders returned to South Africa, their eldest daughter and her husband, American-born José Conde, moved with them. Conde was a graphic designer, but he found he had a passion for wine. The website notes: "With an artisan's attention to detail and a purist's approach in the cellar, Jose slowly developed the wines to where they are today. He continues to design all his own wine labels." Andrew Klink is the vineyard manager who led the conversion to organic farming. Rudger van Wyk is the winemaker and advocate of minimal intervention in the cellar.
The Jonkershoek Valley is part of Stellenbosch, a premier growing region in South Africa. It features high elevation, generous winter rains, and a cleansing southeasterly breeze. The Stark-Condé vineyards are farmed organically, and 80% of the estate is rugged, virgin terrain. The website notes: "The flora mirrors the rich biodiversity of the neighboring Jonkershoek National Park, which has been declared a Unesco World Heritage Site for its fynbos biome." The fynbox biome is noted for an exceptional degree of biodiversity.
Stark-Condé Cabernet Sauvignon, Stellenbosch, South Africa 2017 is bold but easily approachable big red wine. Plenty of assertive dark fruit flavors, but restrained tannins. Brawny in the mouth. It delivers enjoyable power, not a palate-pounding experience. Matches up well with California cabs at twice the price. Pair with beef; lamb; poultry. $22-27
Vineyard Brands, U.S. importer