Medium straw color; honeysuckle, peach, pear, wisteria flowers on the nose; ripe peach, pear, honey on the palate.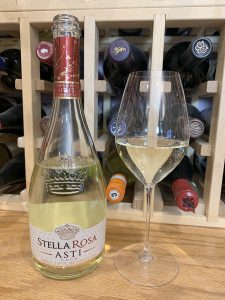 Semi-sweet. Made with Moscato Bianco grapes grown on the steep hills of the Piedmont region of northwestern Italy. The wine is fermented in pressurized tanks. Once the desired sweetness is achieved, the wine is centrifuged and bottled. 6.5% ABV; 9.5% residual sugar.
The wine is a product of the Riboli family, founders of the historic San Antonio Winery in Los Angeles. The website notes: "To create the Stella Rosa wines, our family chose the region of Asti, a province in Piedmont, Italy, as the source for its aromatic grapes, which have become the hallmark for the Stella Rosa style of wines. The area of Asti has particular significance to our family, as it is the birthplace of our family matriarch, Maddalena Riboli.
"Our first Stella Rosa wine was Moscato D'Asti, which has become a flagship of this line. Soon after, Stella Rosa Rosso was created—the brand's first semi-sweet, semi-sparkling red wine blend, and first wine of its kind to be brought to America from Asti. The rapid phenomenal successes of these two wines began the lineage of Stella Rosa, which now boasts over 20 distinctive flavors."

The Riboli family's wine story dates back to 1917 when they opened the San Antonio Winery in downtown Los Angeles. The family is now in the fourth generation of wine and winemaking, with Anthony Riboli the principal winemaker, assisted by Arnaud Debons. This wine comes from Italy. Other Riboli brands include Maddalena, San Simeon Estate Reserve, Riboli Family Wine Estates, Opaque, and Windstream.
Stella Rosa Moscato d'Asti DOCG is built to please those who enjoy sweet wine with low alcohol. It is semi-dry, not cloyingly sweet, a nice take on the muscat grape. Voluptuously fruity. The fizz adds lift and the sweetness creates a wine that can classically pair with spicy Asian cuisine. It also will deliver paired with a charcuterie board with cured meats, strong cheeses, salted nuts. It is sweet enough to work with apple pie, peach cobbler, citrus cakes, and traditional Italian treats such as panettone, pandoro, and Colomba di Pasqua. Works as an aperitif or for casual summer sipping. Also easily can serve as a mixer in cocktails to enhance fruit flavors. $10-15
Riboli Wines website—nice videos and overview