Medium straw-yellow with hints of green color; green apples, pear on the nose; green apple, honeydew melon, ripe pear on the palate.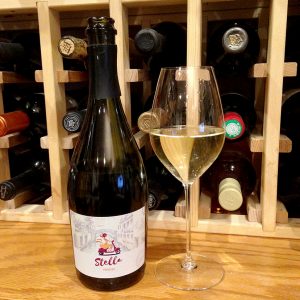 Extra dry; delicate perlage; smooth, bright; excellent acidity (3.1 pH); nice softness on the finish. This is a basic, straightforward prosecco—fun, easy to drink, will pair with many lighter foods and lighter spicy foods.
There is thin information and photos about Stella Wines on the company website and elsewhere on the web. Prosecco is made with glera grapes in the Veneto region of Italy (north and east of Venice in northeastern Italy; the central city is Treviso).
Unlike Champagne where secondary fermentation occurs in the bottle, prosecco is made using the "tank method," often called Charmat method, where fermentation occurs in a large tank and the bottles are filled with wine from that tank. The Charmat/tank method emphasizes fresh, fruity qualities, and that can be found in this effort.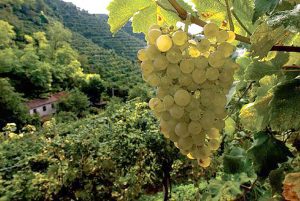 The tank method also means Prosecco bubbles are lighter, more delicate, and can be less persistent, although the less persistent difference with Champagne has largely been eliminated as Italian makers have significantly upped their game in the past decade or so. Because of its great value-to-price ration, prosecco has been skyrocketing wine star for several years, certainly in the sparkling wine category. This effort is another example of why that is so.
Stella Wines Prosecco NV is nice-for-price, very clean, bright easy-drinking, very food-friendly effort. The fact that it does not have the cutting, angular, assertive characteristics of Champagne and other sparklings made using "méthode clasique" will be a plus to many sippers. The price certainly will be a welcomed plus. Works as an aperitif; pair with cheeses on cheese plate at a cocktail party, prosciutto-wrapped melon and other prosciutto dishes (prosecco-prosciutto is classic pairing), smoked salmon, middle-weight Asian and Vietnamese dishes, sushi, vegetarian dishes, even potato chips or buttered popcorn. $12-13