Deep ruby color; cherry, blackberry, bell pepper on the nose; black cherry, blackberry, plum, mocha, oak spice on the palate.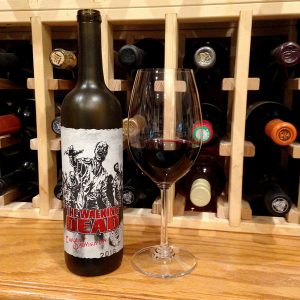 Dry; full body, some jam, very smooth; chocolaty tannins and oak; vanilla notes from barrel toasting. This fits into the fruity sweetness, significant oak influence category of commodity wine, but it surprised me by not being comic book wine. I typically fear gimmicky wines, and one geared to exploiting the zombie genre by sporting a label that causes your cell phone to play a simulation of a zombie breaking out of the bottle and mauling your cell phone screen certainly qualifies as heavy on the gimmick game.
This is not a wine I might pour every day, but it certainly could be a hit at a Walking Dead or zombie-themed party. Make a note to consider it around Halloween. It is a Treasury Wine Estates product, and the Australian mega wine maker is loath to lose out on filling a pop culture niche and cleverly knows how to target a specific market target. Thus this wine with its augmented reality label. If you don't use your cell phone for augmented reality experiences and you have never heard of the Walking Dead television/Netflix and comic book franchise, then you likely should take a pass on this pour.
Treasury is a major international player in the wine world, making wine in 12 countries, selling more than 35 million cases of wine a year, generating more than $2 billion in sales. Treasury tends to focus on commodity wines sold in supermarkets and mass-market liquor-beer-wine stores. Labels you may recognize include Sterling Vineyards, Stags' Leap, Beaulieu Vineyard, Beringer, Chateau St. Jean, Greg Norman Estates, Lindeman's, Wolf Blass, and their flagship—Penfolds.
The Last Wine Company The Walking Dead Cabernet Sauvignon 2016 competes in the Apothic popular premium category, although Gallo's Apothic tends to feature zin rather than cab. Still, rich, full flavors with loads of fruity sweetness and noticeable—but not wildly overdone—oak. If you are into zombies and The Walking Dead franchise, this definitely is worth a swirl. If offered a glass, you do not have to recoil because it is undrinkable. I think this is a wine you pair with a party and whatever finger foods, pizzas, fast-food assortment is on the table in the dorm room, frat house, or starter home table. $14-19