Pale ruby color; light strawberry, cranberry, cherry on the nose; cranberry, raspberry, cinnamon on the palate.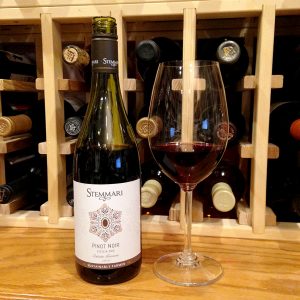 Dry; relaxed tannins and acidity; light, easy-drinker; fruit-forward; does not taste like a classic Burgundy or Willamette Valley pinot noir, and certainly not like bolder California efforts. This is Sicily's version of pinot noir with its own charms, not the least of which is its low price.
Stemmari is the largest exporter of Sicilian wines to the U.S. and is part of Gruppo Mezzacorona, one of the Italian wine giants for more than a century. Lucio Matricardi is the winemaker. He was born in Abruzzo and trained in winemaking and viticulture at the University of Bologna. He earned his PhD in viticulture and enology from the University of California at Davis. He is the head winemaker for Rotari Trentodoc and Mezzacorona in addition to Stemmari. All are part of Mezzacorona Group. Prior to this he held positions at Castello Banfi in Tuscany and Miranda Estate in South Australia.
Stemmari is committed leader in green movement, both in their vineyards and their winery: sustainable agriculture, clean and renewable sources of energy (winery is 100% solar powered), efficient use of water (waste water is recycled, rain is captured, computerized drip irrigation used), reduced carbon dioxide emissions.
Stemmari Pinot Noir Sicilia DOC 2016 is tasty and enjoyable. An old Sicilian sayings goes "Wine is life, and to life I drink." Stemmari wines reflects this Sicilianamente attitude. Excellent pairing with savory first courses like pasta with meat sauce, salmon tartare with chips, rich salads, especially those that include fish; also with red meats, medium-spiced roast, blackened salmon and other heavier seafood, semi-matured cheese. $9-10