Pale ruby color; cherry, rose petal, spice on the nose; cherry, raspberry, red fruits, blueberry, tart blood orange on the palate.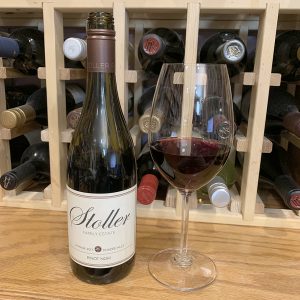 Dry; polished tannins; good supporting acidity. Medium body. Whisper of oak comes on in mid-palate thanks to almost a year in 15% new and 85% neutral French barrels. Slight earthiness on the nicely extended finish, where there is a touch of tartness. All in all, a well-built, easy drinker well worth its price; 13.5% ABV.
The winery describes this wine as designed to be approachable and affordable: "A mosaic of Pinot Noir from our estate, this wine is a classic representation of the Dundee Hills, showcasing our site's bright, pure fruit." I agree with their evaluation..
Owner Bill Stoller is the founder and CEO of The Stoller Group, also the president and vice-chairman of Express Employment Professionals, and founder and CEO at Xenium HR & Employer Services. A native Oregonian, Stoller holds a bachelor's degree in business and economics from Pacific University, and an MBA from Portland State University. His considerable successes in employment services allowed him to pursue his passion for wine.
Stoller gained part ownership of Chehalem Wines with Harry Pederson-Nedry in 1993. He founded Stoller Vineyards in 2001. Their winery opened in 2006 as Oregon's first and only LEED-certified, solar powered, gravity-flow operation. Its drive for sustainability earned the winery the world's first LEED gold certification. It is dedicated to producing pinot noir and chardonnay.
Winemaker Melissa Burr has been at Stoller since 2003. Burr says the challenge at Stoller is to control the vigor of the site in order to concentrate flavors. She strongly believes acidity plays key role in balance and flavor, and this effort reflects that. The Dundee Hills are located southwest of Portland, OR, beside the Willamette River. Stoller has the largest contiguous vineyard in the Dundee Hills and the fruit for their wines is 100% estate grown. Lovely country, ecologically responsible wine maker, very nice wines.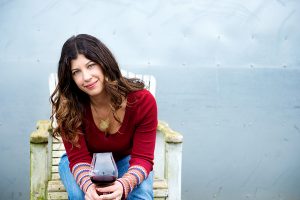 Today, the Stoller Wine Group brands include Stoller Family Estate, Chehalem, Chemistry, History, and Canned Oregon. The link below will lead you to more information about their various offerings.
Stoller Family Estate Pinot Noir Dundee Hills 2017 is a delicious, approachable, attractively priced, quality pinot noir from Stoller's various vineyards and array of pinot clones. It is a somewhat straightforward Oregon effort, but you get a slurpingly enjoyable wine to drink, with hints of depth, at a pleasing price point. Stoller Wine Group consistently delivers. Pair with a wide range of fare—that is what pinot noir does. Seared salmon; seared tuna; fish and seafood in general, especially richer meats; roast or grilled lobster; Thanksgiving turkey; grilled quail; pork; rare fillet steaks; beef Wellington; chicken; turkey sausage; mushroom risotto. $24-35