Pale gold color; melon, yellow apple, hazelnut, vanilla, honeysuckle on the nose; yellow apple, pear, almond, lemon, oak, butter on the palate.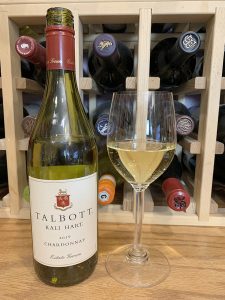 Dry; big oak and butter on this blowsy Cali chard. There are people who will love this style, others who recoil about a plank of oak slathered in butter. To each his own. Medium-plus body. Very fruit forward. Creamy in the mouth. Grapes come from Talbott's Sleepy Hollow estate vineyards and is named after founder Robb Talbot's daughter, Kali Hart. 14.6% ABV
Talbott's Santa Lucia Highlands Sleepy Hollow Vineyard is the core of its operations. The website notes it was: "designated one of California's Grand Cru vineyards by Wine Enthusiast in 2016 for its ability to produce exceptional wines year after year, even under challenging conditions. With rolling hills and mountains, lush green land and bright blue skies, this vineyard has remarkable beauty. First planted in 1972, the vineyard is comprised of 565 planted acres divided into three vineyard parcels, Sleepy Hollow North, Sleepy Hollow West and Sleepy Hollow South. Each grows exclusively Chardonnay and Pinot Noir grapes."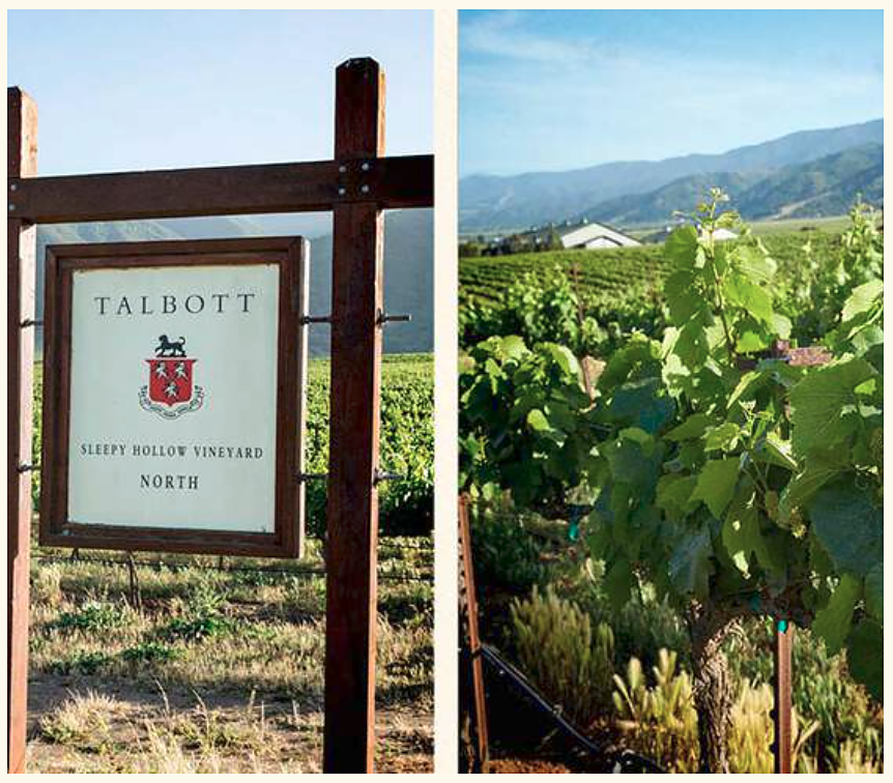 Talbott began when Robert Talbott, Sr. and his wife, Audrey, and son Robb moved to Carmel, California to start a luxury tie company in 1950. Overseas trips to buy silk introduced them to the fine wines of France, and the Talbotts began to dream about making their own wines. The Sleepy Hollow Vineyard was planted in 1972, one of the first in the Santa Lucia Highlands.
In 1982, Robb Talbott launched Talbott Vineyards with his father. They planted their first grapes at Diamond T Vineyard on a mountain top in the Carmel Valley. In 1989, they opened a tasting room. In 1994, the Talbotts acquired the Sleepy Hollow Vineyard and became an all-estate winery. In 1997, the Talbott Vineyards 1990 Sleepy Hollow Chardonnay scored 100 points in a special retrospective tasting by Wine Spectator.
Talbott Vineyards Kali Hart Estate Grown Chardonnay 2019 is a flaunting example of oaky-buttery Cali chard. This can be a "love it or leave it" wine depending on your affection for oak and maximum malolactic fermentation. Aggressively fruit-forward. Round, creamy. Pamela Anderson, not Audrey Hepburn. Pair with movie theatre popcorn; pork; rich fish—salmon, tuna, cod; shrimp; shellfish; fried chicken and other poultry dishes; vegetarian fare. Cheese—hard cheddar, washed-rind, parmesan, bleu cheese, camembert. $14-18