Medium ruby color; cherry, raspberry, plum, oak, vanilla, forest floor on the nose; cherry, raspberry, plum, blackberry, strawberry, oak, vanilla, chocolate on the palate.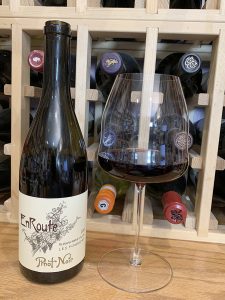 Dry; supple tannins and balancing acidity. Earthy, light-full body. Nicely refined, elegant with long finish. Delicious easy drinker with satisfying, tasty red fruits. The Graton and Amber Ridge vineyards provide excellent fruit from several different clones, delivering adventure and complexity. Finished in largely neutral oak to showcase the purity of the five-star fruit. 14.5% ABV
EnRoute is part of the Far Niente-Nickel & Nickel family of wines. Established in 2007 in the Russian River Valley, the vintners were intrigued by the possibilities of the vineyards and the enveloping fogs of the morning that promised quality pinot noir. Their single-vineyard "Les Pommiers" effort arrived with the 2013 vintage. The wine is named for the apple orchards that once flourished in the valley.
John Benson founded Far Niente (Italian for "without a care") in 1885. Benson was the uncle of famed impressionist painter Winslow Homer. Noted architect Hamden McIntyre designed the winery building. Constructed against a hillside, Far Niente is a gravity-flow operation, no need for pumping of juice.

Far Niente operated as a winery until Prohibition in 1919. Abandoned, it fell into disrepair until Gil Nickel purchased the winery and vineyards in 1979, beginning a three-year effort at restoration and rehabilitation. Wine production resumed in 1982. The winery focuses only on cabernet sauvignon and chardonnay. In 1998, a bottle of Far Niente Sweet Muscat 1886 was discovered in a private cellar. The bottle retains its original label and capsule and is believed to be the oldest intact bottle of California wine in existence.
Far Niente has been aggressive in acquiring land and expanding. The company purchased the En Route vineyards and winery in the Russian River Valley in 2007 to be part of its single-vineyard series of wine. Their first release was EnRoute Pinot Noir, Russian River Valley in 2007. Les Pommiers was their second release in 2009 and is their flagship bottling today.
The winery notes: "The name, EnRoute, is a nod to the journey we have taken on our way to producing Pinot Noir, which began in the 1980s in Burgundy. While Far Niente's vision is exclusively focused on Napa Valley Chardonnay and Cabernet Sauvignon, we still enjoyed traveling and tasting the great Pinot Noirs of the world. Eventually, sister winery Nickel & Nickel's single-vineyard program provided the opportunity to venture into the Russian River Valley. After a few years of producing wines from Russian River, we decided to make a serious commitment to the region, acquired two remarkable vineyards and established EnRoute, devoted to Russian River Valley Pinot Noir."
EnRoute Les Pommiers Russian River Valley Pinot Noir 2019 is plush, elegant, supple easy drinker. Delightful purity of fruit from famously accomplished maker—this is a brand of Far Niente-Nickel & Nickel. Superlative experience from gracious initial attack through a long and sensuously satisfying finish. Pair with turkey and other poultry; lighter cuts of beef—filet mignon, other less-marbled cuts; salmon, cod and other fish and seafood; garden salads with fruits as part of the mix; vegetarian fare. Can be thoroughly enjoyed on its own or paired with neutral crackers, charcuterie board. Cheese—gruyère de comté; blue cheese; gouda; taleggio; emmenthal. $45-60