Pale ruby color; red fruits, strawberry, raspberry, lavender on the nose; cranberry, bing cherry, strawberry, plum, black tea, red currant on the palate.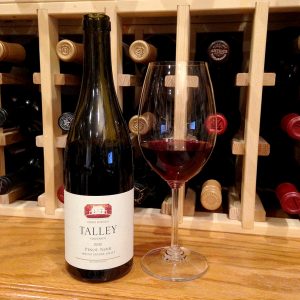 Dry; fine-grained tannin; concentrated fruit with sour cherry emerges assertively on the mid-palate and is joined by white pepper and spice on the lengthy finish. There is good structure and acidity thanks to a low yielding vintage and the distinctive character of the Arroyo Grande Valley—its east-west configuration means it is heavily influenced by Pacific Ocean maritime climate events such as temperature drops at night and Pacific fogs in the morning.
Fruit comes from Talley's Rincon Vineyard (63%), Rosemary's Vineyard (21%), Las Ventanas Vineyard (16%). Talley makes single-vineyard pinot noirs from their Rincon and Rosemary's plots; they sell for twice the price of this, their entry-level offering. They also produce wines under the Bishop's Peak and Mano Tinta labels.
Talley Vineyards traces its roots to 1948 when Oliver Talley founded Talley Farms to grow specialty vegetables in the Arroyo Grande Valley. After working the land and analyzing its potential, Oliver's son, Don Talley, believed the valley could be ideal for chardonnay and pinot noir, the classic Burgundian wines. He planted a test plot in 1982 on the west hillside of the Rincon Vineyard, over time expanding to six vineyard sites in the Arroyo Grande and Edna valleys.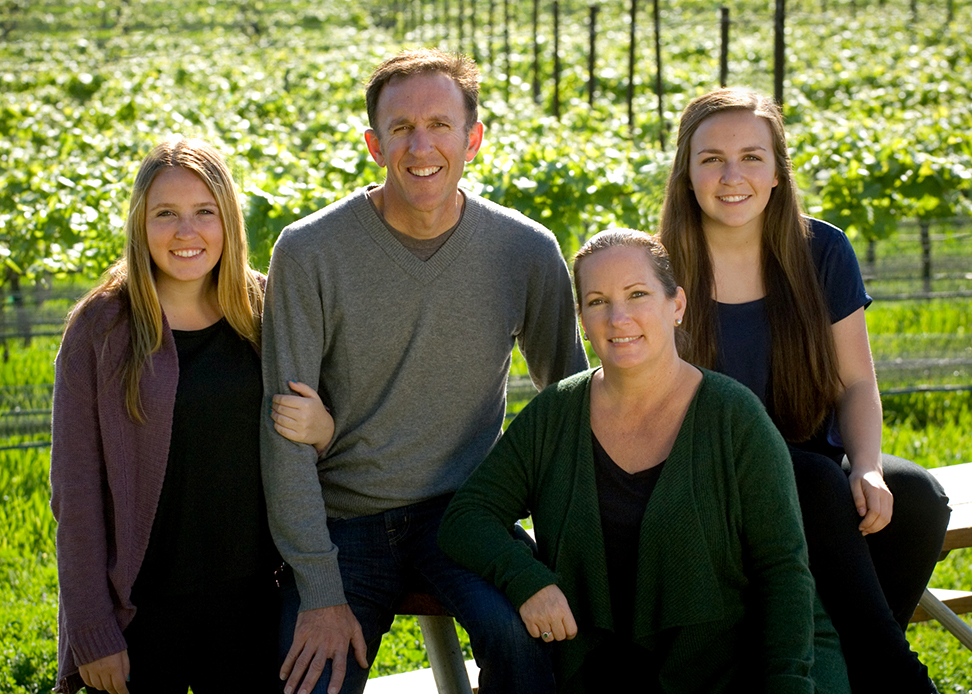 Don and Rosemary Talley founded Talley Vineyards in 1986, producing 450 cases of wine the first year. They completed a state-of-the-art winery at the foot of the Rincon Vineyard in 1991 and a new tasting room in 2002. Today, Talley produces some 36,000 cases a year. It remains a family-owned and operated enterprise specializing in estate-grown chardonnay and pinot noir made in Burgundian style. They are committed to sustainable farming; in addition, they also are active in programs to assist workers in the winery and vineyards. Don and Rosemary's son, Brian and Johnine Talley own and operate Talley Vineyards today, along with Todd, Ryan, and Rosemary Talley.
Brian Talley sums up the Talley vision on the Talley website: "I consider myself blessed to be a third-generation farmer who gets to farm in such a special part of the world. Our wines reflect both my family's legacy and all of the potential of Coastal San Luis Obispo County."
Talley Vineyards Estate Pinot Noir, Arroyo Grande Valley 2015 is serious pinot noir made in Burgundian style. It is somewhat sharp on pop-and-pour, but smooths out elegantly with air. As you could expect from the style and the 13.4% ABV, this is extremely versatile with food. Pair with salmon steaks, roast or grilled lobster, roast chicken, roast turkey, grilled quail, squab, roast goose, rack of lamb served rare, coq au vin when sauce is made with pinot noir, glazed ham, beef Wellington, mushroom risotto, brie cheese, mild blue cheese. Leave the richest, red meat dishes to robust reds, but this is fair game for the rest of the menu. $32-36