Deep purple, almost black; prune, blackberry, vanilla, coffee on the nose; dark fruits, plum, blackberry, cinnamon, earth, tobacco, spice, smoke on the palate.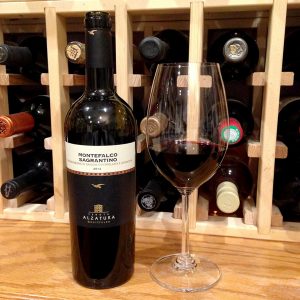 Dry; 100% sagrantino grapes fermented in stainless steel, then matured for 16 months in small oak casks after malolactic fermentation (the DOCG regulations insist on minimum of 12 months in oak), followed by a year or more in bottle before release. This tasting is six years after vintage and it still significantly reflects sagrantino's classically massive, assertive tannins. Decanting is emphatically recommended; sagrantino is one of the most tannic wines in the world, thanks to its very thick, dark skin. As a result, there is plenty of structure and weight to hold its own against robust fare. Nice acidity also helps balance things and enhances it ability to pair with very rich red meats.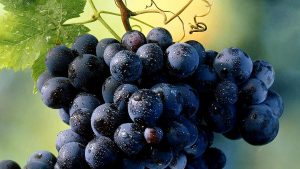 Sagrantino is indigenous to the Umbria region of central Italy and almost exclusively grown around the village of Montefalco. It achieved DOCG status in 1992, but remains relatively unknown outside of Italy. The winemaking tradition began in 1893 when Luigi Cecchi became a professional wine taster and imagined the future of Italian winemaking beyond table wine. He respected tradition, but also envisioned evolution. The website notes: "Every step forward taken by the winery throughout its history has been preceded by careful and thorough experimentation, and it is the respect for tradition that has always led the family in making its daily decisions."
The Cecchi family expanded from its Tuscan base in the late 1990s to the Montefalco area, a decision its websites notes "entails a reorganization of the production, agricultural and oenological strategy, in order to adapt to the new reality." The "new reality" was part of the Cecchi family's decision to expand not just in Italy, but to compete for palates on the world stage. Today, Cesare and Andrea Cecchi manage the family business.
Tenuta Alzatura Montefalco Sagrantino DOCG 2012 is not for the faint of palate with its robust red and black fruit flavors and take-no-prisoners tannins (decant, my friends, decant). That makes it a winner with monster grilled and barbecue with plenty of fat on the meat, wild game, lamb, rich Italian food made with red meat and tomatoes (no white sauces need apply), aged and flavorful cheese. It will overwhelm lighter fare. With its depth and robust flavors, particularly brave drinkers will enjoy this by itself, perhaps with a cigar and lively conversation after a rich feast. $26-40