Medium ruby color; wild red berries, clove, coriander, pepper on the nose; sour cherry, strawberry, raspberry, mulberry, concentrated red fruit flavors.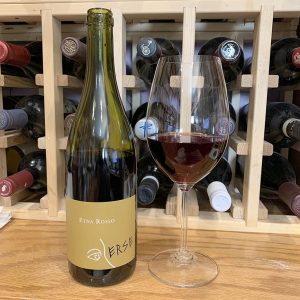 Dry; soft tannins; round and spicy. Very fresh, integrated acidity. Medium-plus body. No oak, finished 100% in stainless steel. Black tea and citrus hints on the finish as exotic parade of grapes make their appearances. Some chalky minerality, too. There are some disjointed elements to this, but that may be my only slight familiarity with the grapes—a condition I likely will share with most drinkers; 13% ABV.
Blend of red and white grapes: 90% nerello mascalese, 8% nerello cappuccio, 8% minnella, 2% carricante. Nerello mascalese and nerello cappuccio are red wine grapes principally grown in Sicily; mascalese is considered superior to cappuccio; both are thought to be crosses between sangiovese and an unknown grape variety. They do the heavy lifting and provide the tasty red fruits.
Minnella is a white grape native to Sicily, grown primarily in the foothills of Mount Etna. Its name means "little breast", a reference to the berries elongated shape. It brings excellent acidity and hints of citrus to blends. Carricante is a white grape indigenous to Sicily; its name references "to load or to burden"—a reference to the variety's heavy yields. Carricante also adds high acidity to blends.
Blending red and white grapes together is not standard, but certainly not novel to Sicily. Blending shiraz/sirah with viognier is an example most will be familiar with. The exotic elements here are all four grapes are grown almost exclusively in Sicily.
The winery is the trailblazing dream of Silvia Maestrelli. The website notes: "Pioneer and women—among the producers who have given new impetus to enology on Etna, Silvia Maestrelli—comes from a Florentine entrepreneurial family, she emigrated to Milan for love—arrived on Etna in 2006, on the trail of falling in love with this land rich in contrasts. A real coup de foudre for a difficult land, strongly masculine, but of enormous charm and equally great enological potential. Thus began a new phase for her life and a research, both personal and professional, which will give life in 2007—after long and detailed negotiations with the ancient and numerous landowners—at the birth of Tenuta di Fessina. A project in which the sensitivity of a 'feminine' oenological vision, combined with the unquestioned technical skills of consultants and collaborators, has allowed us to create in just 10 years from the foundationone of the most successful and recognizable cellars in the Etna area, perfect ambassador in the world of new Sicilian viticulture."
Tenuta di Fessina Etna Rosso Erse 2016 delivers bold flavors in blend of red and white grapes found almost exclusively in Sicily. Some grown only on the higher slopes of Mount Etna. Exotic and distinctive, perfect pour for someone who wants to wander away from same-old same-old assertive red wine. Pair with beef, rich red meats; pizza; pasta dishes with red sauce; Dorper lamb. $20-26