Deep gold color; golden apple, peaches, caramel on the nose; apple, peach, vanilla, caramel, butterscotch, brown spice on the palate.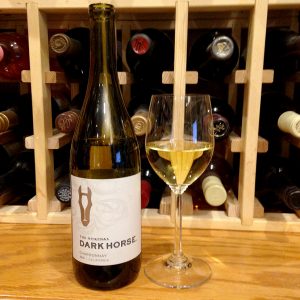 Dry; full body; nice, round texture in the mouth; good acidity (3.5 pH). The Dark Horse tasting notes say this was fermented entirely in stainless steel, but there are oaky, buttery elements. Rich, ripe fruits give sweet quality to the blend of 87% chardonnay, 5% viognier (likely source of the peach tastes), 3% gewürztraminer; 5% other grapes; 13.5% ABV.
I am tasting this five years after the vintage, which may explain in deep gold color, but it also shows that it has held up well. This is cheap wine that punches above its weight and will please many palates, especially if you have a taste for oak and butter done well and rich, ripe flavors. The viognier is a nice touch, giving this wine a dollop of complexity and aromatics.
Dark Horse is a Gallo brand, and Gallo certainly knows how to produce crowd pleasers. This is no exception. One of the reasons Gallo launched Dark Horse was to present very approachable wines in the $8-10 price range, hoping to show you can enjoy good wine for less than $10. That may be the backstory to the name: a "dark horse" is something people do not think will win, but may do so anyway. Dark Horse is a winner in its value wine niche.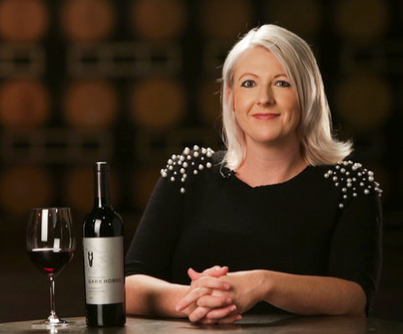 Dark Horse represents a Gallo tactic of building a brand around a winemaker (Tom Gore is another). In this case, Beth Liston is a big, brassy personality, dirt on her palms, tattooed, an entertaining risk taker. It is worth a visit to the winery website to get to know her. There is link to video about Beth below.
The wine originally was slated as a Trader Joe's exclusive, but now has national distribution. Dark Horse makes the standard consumer-focused array: this chardonnay, cab, merlot, big red blend (grenache and barbera), pinot noir, pinot grigio, rosé (five grapes, led by grenache), and sauv blanc.
The Original Dark Horse Chardonnay, California 2014 is easy going, easy drinking, rich in the mouth. It is minimally complex and does not have depth, what it does have is rich, ripe fruit. Don't ask it to be more than it is and you will be happy with the pour. Pair with meaty seafood—halibut, cod; shellfish; lobster; shrimp; crab; scallops; pasta dishes with cream sauces; chicken prepared just about any way; pork dishes, movie theatre popcorn; cheeses with buttery, nutty, fruit notes—camembert, blue cheese, Fontina D'Aosta. $8-10