Deep ruby color; black cherry, blackberry, blackcurrant on the nose; black cherry, plum, blackcurrant, black fruits in general, chocolate, oak notes, pepper on the palate.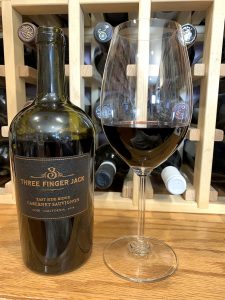 Dry; soft, integrated tannin. Rich, opulent in the mouth. Fruit forward; 15% ABV and ripeness of the Lodi fruit gives this phenolic illusion of sweetness with intrusions of residual sugar. Generous, fleshy, hedonistic pour. Much of Lodi has deep, loamy soil that is ideal for Rhône varieties. The East Side, located 100 miles east of San Francisco Bay, at the edge of the San Joaquin-Sacramento River delta and below the Sierra foothills is more rocky with soil low in nutrients—terroir excellent for cabernet sauvignon.
Blend of 76% cabernet sauvignon, 9% petite sirah, 8% malbec, 6% merlot, and 1% other grapes, all from Lodi. Part of this wine is aged in American and French oak, the rest in stainless steel. This drinks more like a Lodi zinfandel than a Napa cab. Big wine, big flavors, but does not present quite as much assertive tannins and pushy power as some Napas.
This is the inaugural vintage of this wine from Delicato Family Wines. The name comes from Lodi folklore and history. Three Finger Jack was an outlaw who roamed the Sierra Foothills during the Gold Rush days. No one knows how he lost his fingers, nor do they know his eventual fate, but the legend lingers in Lodi.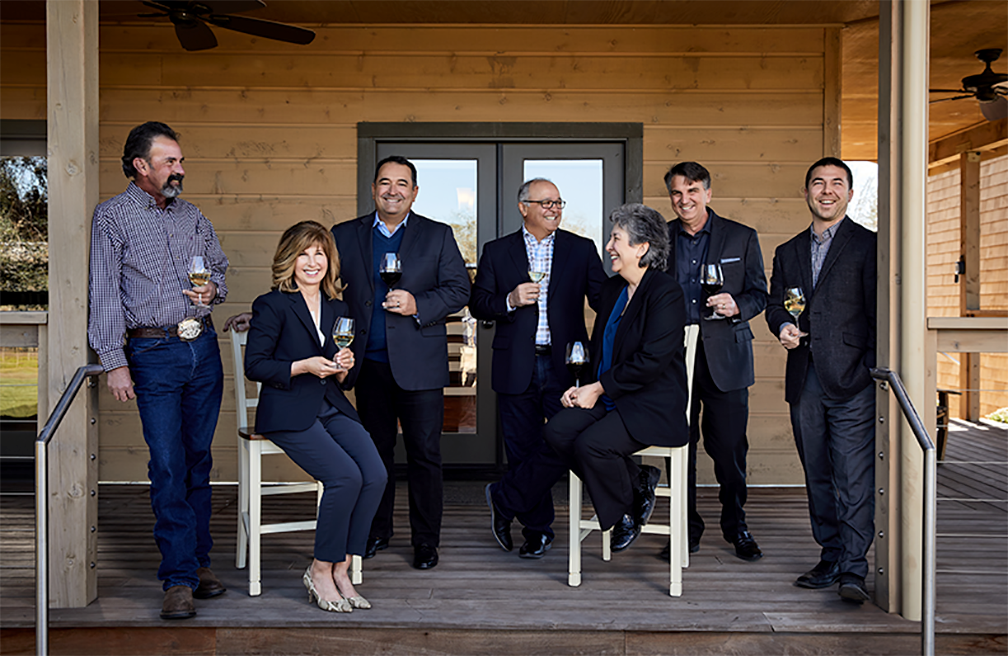 Delicato Family Wines began in 1924 with Sicilian immigrant Gaspare Indelicato. He planted the first Delicato vineyard in Manteca, California, because the land reminded him of his homeland. With his three sons, he built a reputation for winemaking, and the family became a major player in wine.
The website notes: "By 1940, the Delicato winery was making and selling about 15,000 gallons a year. In 1955, production reached 74,107 gallons – a long way from the mere 3,451 gallons of twenty years earlier. By 1964, the winery increased its capacity to 403,000 gallons. This steady growth over the years is what makes Delicato Family Wines today a top 10 U.S. wine supplier. With total sales of more than 12 million cases per year and more than a decade of sustained double-digit growth, Delicato Family Wines is the sixth largest winery in America and the sixth-largest exporter of branded wine from the USA."
All Delicato Family Wines production facilities are certified sustainable by the California Sustainable Winegrowing Alliance, a program of the California Wine Institute. The website notes: "Environmental sustainability is more than a commitment for Delicato Family Wines: it's a core value that informs every key decision we take across every aspect of our business. Guided by the Indelicato family's leadership, we take seriously our responsibility to minimize the impacts of our business on the land, air, and water, to help ensure a vibrant, thriving environment for future generations."
Three Finger Jack East Side Ridge Cabernet Sauvignon 2016 touts itself as "outlaw by nature" in its marketing. This is big, brawny, intensely rich wine, but still has easy drinking qualities. At 15% ABV, it certainly invites you to enjoy around a fire pit while sharing manly tales, both tall and authentic, depending upon the gathering. Pair with thick, juicy steaks; lamb; burgers; aged cheeses. Also can be enjoyed as a cocktail wine by itself or with neutral wine crackers, charcuterie board. $17-22