Very light yellow-copper color; intense green apple, pear on the nose; apple, pear, apricot on the palate.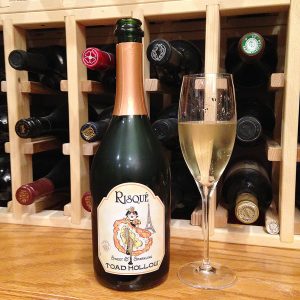 At seven percent residual sugar, this earns doux classification, the sweetest level for sparkling wine, and there is indeed sweetness here, but it is helpfully balanced by crisp acidity and freshness. It will be a crowd pleaser for those who favor their wine sweet, but it also may persuade those who think all sweet wine is plonk to reconsider their prejudice. There is ton of fruit; the body is light in weight; the perlage is persistent with small bubbles.
Risqué is made with mauzac grapes in Languedoc in southeastern France for California maker Toad Hollow. Mauzac rarely is grown or sold in U.S., so this presents an opportunity to taste a grape you may not have experienced before. It is made using méthode ancestrale fermentation technique, which may be the oldest method of making sparkling wine and is different from méthode champenoise.
In the ancestral method a base still, half-fermented wine is made. That is followed by a secondary fermentation in the bottle without any addition of sugar or liqueur as in méthode champenoise. Fermentation eventually stops by yeast cell depletion. The deposit of depleted yeast is so small there is no disgorging, unlike the champenoise method. The méthode ancestrale technique today is largely confined to Limoux (where this is made), Gaillac, Bugey, and Cerdon. So not only do you get to sip a rare grape, you get to sip a wine made in an ancient and now rare method.
This is pleasing as a solo pour, but a sweet quality sparkler also can serve very well as a bar mixer for various cocktails. It also can be served on ice with a squeeze of lime. There are Risqué cocktail recipes on the winery's website.
The Toad Hollow name comes, according to the winery's charming website, from original owners, Dr. Toad (Todd Williams) and The Dancing Badger (Rodney Strong), two old friends who decided to start a winery in 1994 instead of enjoying retirement and rusting away. It remains family owned, although—from the website: "Heaven is a livelier place these days as both Dr. Toad and Mr. Badger have left their wine glasses with us here on Earth, but we know that these fine gentlemen toast us regularly, as we do them!"
Regular readers know of my admiration of Toad Hollow's president Frankie Williams. Francine "Frankie" Williams has a colorful history that includes working for the CIA. She arrived in California in 1972 and met Dr. Todd Williams. They married in 1978 and operated a San Francisco bar named "Toad Manner." Later, they opened the Whiskey River Inn in the Sierra Foothills before moving back to Sonoma and Healdsburg, where Frankie helped manage a law firm. Then came the wine operation. After Todd passed on in 2007, Frankie vowed to continue and now enjoys her days surrounded by Russian River Valley vineyards and her long-time staff.
Toad Hollow Risqué Sweet & Sparkling NV will be a big hit with those who like sweeter wine; massive tasty fruit and balancing acidity. Versatile as a cocktail ingredient, too. $16
Other photo: Frankie Williams, Toad Hollow president