Pale ruby color; Bing cherry, raspberry, cola on the nose; Bing and black cherry, rhubarb, sour cherry, raspberry, caramel, spice on the palate.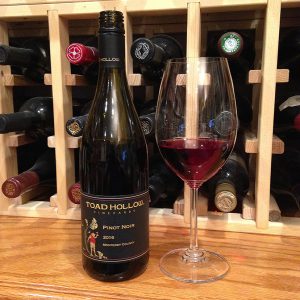 Dry; light body, reserved tannins and acidity (3.72 pH), reserved oak. Good balance and structure. Fruit is there, but this is not fruit-forward effort. Sour cherries appear in mid-palate and finish along with Bing cherry and cranberry tang. The distinctive Monterey County rhubarb and flavor layers certainly are there.
The wine evolves nicely in the glass and with decanting. I used my usual red wine technique of tasting pop-and-pour for the first evaluation, then I run the wine through a Menu Wine Breather (a superb decanter system that decants twice, the second time returning the wine to the bottle). Decanting smoothed things out, softened the sour notes, revealed more of the fruit without erasing the distinctive Monterey tang-tartness and better exposed the layers and complexity. Decanting is recommended for this effort; I almost always recommend decanting red wine, BTW.
Made in lean style, unlike many California pinots at this price point that go for much greater extraction and a richer, chewier pour. That is not a criticism. Personally, I prefer a lighter style for pinot noir. Monterey County is new source of grapes for Toad Hollow, past efforts came from Russian River Valley and Sonoma County, where the winery is located.
The Toad Hollow name comes, according to the winery's charming website, from original owners, Dr. Toad (Todd Williams) and The Dancing Badger (Rodney Strong), two old friends who decided to start a winery in 1994 instead of enjoying retirement and rusting away. It remains family owned, although—from the website: "Heaven is a livelier place these days as both Dr. Toad and Mr. Badger have left their wine glasses with us here on Earth, but we know that these fine gentlemen toast us regularly, as we do them!"
Regular readers know of my admiration of Toad Hollow's president Frankie Williams. Francine "Frankie" Williams has a colorful history that includes working for the CIA. She arrived in California in 1972 and met Dr. Todd Williams. They married in 1978 and operated a San Francisco bar named "Toad Manner." Later, they opened the Whiskey River Inn in the Sierra Foothills before moving back to Sonoma and Healdsburg, where Frankie helped manage a law firm. Then came the wine operation. After Todd passed on in 2007, Frankie vowed to continue and now enjoys her days surrounded by Russian River Valley vineyards and her long-time staff.
Toad Hollow Vineyards Pinot Noir Monterey County 2016 is well conceived, lighter bodied CA pinot that significantly benefits from decanting. This will pair with wide range of foods—salmon and other seafood, pork, duck, roast chicken, turkey, Gruyère de Comté and other cheeses. Excellent value, a pinot that punches above its weight, which is no surprise given the maker. $17