Medium ruby color; black cherry, blackberry some smoke and stone on the nose; cranberry, red cherry, raspberry, red plum, herbs on the palate.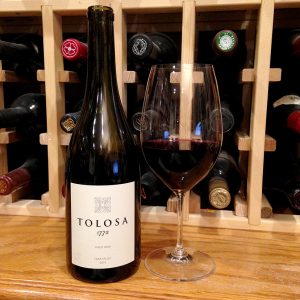 Dry; medium body; very rich in the mouth with friendly, grainy tannins and good acidity. The persistent finish brings forth earthy notes at the very end. Very linear. The layers of flavors you get on the initial attack remain through to the end when, in a last-second coda, the earthy notes bring everything to a satisfactory closure.
The 1772 name honors the year Mission de Tolosa was founded in San Luis Obispo wine country. This is a blend of four different clones from five separate blocks on the winery's estate Edna Ranch. The Edna Valley is lies among the northwest-to-southeast running of volcanic hills in San Luis Obispo County and produces some of the most complex cool-climate varietals in California, especially pinot noir and chardonnay.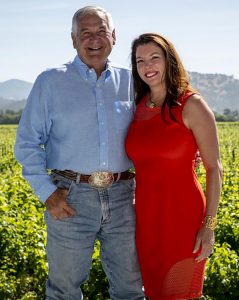 Vinter Robin Baggett dreamed of owning a cattle operation here 40 years ago, but then realized the potential to produce distinctive Burgundian varietals.  Robin and partner Bob Schiebelhut began planting vineyards in 1988, then added more historic ranchland to their effort. Together with Jim Efrid, now retired, they founded Tolosa in 1998.
From the beginning, Tolosa committed to sustainability. Solar panels provide more than 90% of the electrical demands of the winery. All winery waste, including grape seeds and skins, is recycled, composted, or otherwise recovered. Cover crops reduce erosion, build soil fertility, and provide habitat for beneficial insects. All Tolosa estate vineyards are Sustainability in Practice (SIP) certified.
Tolosa 1772 Pinot Noir Edna Valley 2015 clearly is a quality pinot—at this price point it should be. Pairs well with range of foods—that is what quality pinot noir does. It has some admirable pinot noir delicacy and refinement amid the richness. It does not quite achieve the soaring exquisiteness pinot noir can achieve, but it performs very admirably for its price. Very good if not extraordinary—no shame in that. If you want significantly better, pay double or more the price. This should work very well with food because it does not overly assert itself. Pair with almost anything except heavy beef: roast chicken, salmon, coq au vin where sauce is made with this pinot noir, glazed ham, brie and similar cheeses, blue cheeses such as gorgonzola dolce. Enjoy—I did. $60-68